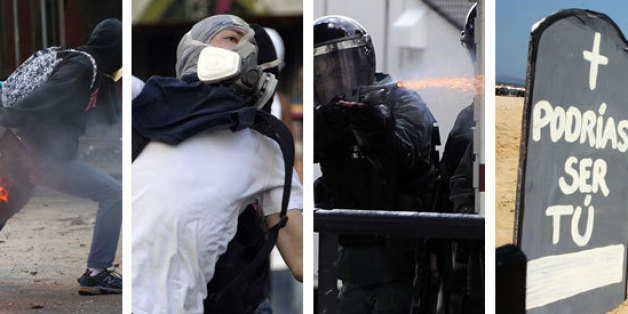 As the political unrest in Venezuela nears its one month mark, the South American country also observed the one year death anniversary of former President Hugo Chávez on Wednesday.
WARNING: Some Images Below Are Graphic
Despite the military pomp, protests continued against the government of Chávez's successor, President Nicolás Maduro, who many blame for food shortages, a skyrocketing inflation rate and the insecurity that currently plagues the country.
The 8 Things You Need To Know About The Venezuelan Protests
No dialogue or solution has been set in motion since the political protests began to turn violent in mid-February. Clashes between Maduro's supporters, police and protesters from the opposition have left over a dozen dead and many more injured.
Take a look at some of the most recent images of the political turmoil in Venezuela:
PHOTO GALLERY
Graphic: Protesters Continue To Send Out An #SOSVenezuela