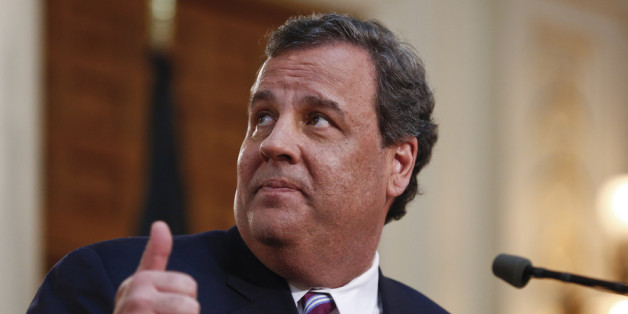 NATIONAL HARBOR, Md. -- In the basement of the Gaylord National Resort and Convention Center where this year's CPAC is being held, there are lines of booths of conservative organizations.
Usually, these booths offer a number of tchotchkes or candies or carnival games to get people to stop by, read some literature and -- if all goes well -- sign up to that group's email list. This year, stress balls are one of the more popular give-away items. The Citizens United group, for example, had a ball that promoted its upcoming movie "Hillary: The Sequel." It reads: "Hillary Dropped The Ball on Benghazi." Get it?
Another booth had a more interesting stress-relief item: a brick. Really, it was a sponge in the shape of a brick, adorned by a picture of the Democrat you most hate. Like a customized golf ball that has the face of the politician you despise most, the idea is to whack, squeeze and throw the item whenever your blood pressure demands it.
The group, Campaign Brick, is new to the CPAC scene. The person manning the booth said the conference is their "coming out party." And they were catering to big clients, not individuals, with offers like $8.00 a brick for 500-999 bricks, and a $50 setup fee.
Campaign Brick is also a non-partisan organization, the representative at the booth said. As evidence, he pointed to the list of political figures that they offer to put on your brick. And indeed, among the 10 options given, there is one Republican: New Jersey Gov. Chris Christie, whose standing with the base of the party (the CPAC crowd) has never been too secure.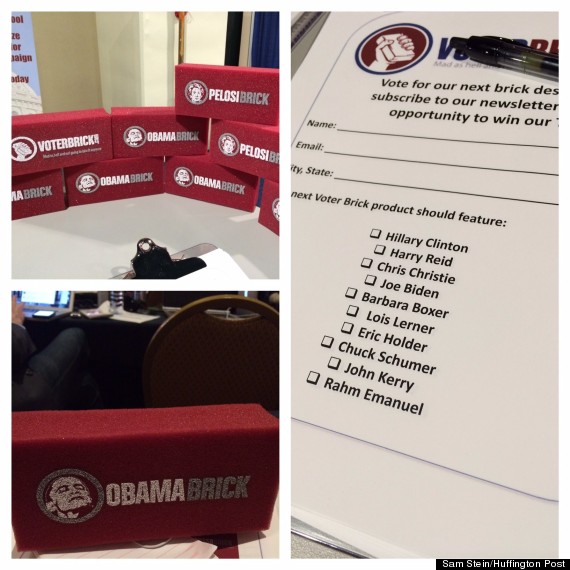 The booth worker said that the group is just responding to market demands. He also noted that if you wanted Speaker John Boehner (R-Ohio) or Senate Minority Leader Mitch McConnell (R-Ky.), they could produce those items, too.
BEFORE YOU GO
03/08/2014 8:15 PM EST
More On Palin's Biting CPAC Speech
From HuffPost's Elise Foley:
Sarah Palin delivered a biting, folksy speech to close out the Conservative Political Action Conference Saturday, going after GOP consultants, the NSA, Obamacare, liberals and the media.

Many of her digs in the 30-minute speech were targeted squarely at President Barack Obama, whom she criticized for his leadership and mocked for his "hope and change" 2008 campaign messages.

"That 'hope and change,' it went from a catchy campaign slogan to a reality, and along the way, 'hope and change,' 'yes we can,' it became 'no, you can't,'" she said. "No, you can't log onto the website. No, you can't keep your health care."
Read more here.
03/08/2014 7:12 PM EST
This Is What Happens When You Bring An Intern To CPAC
While the politicians gave their speeches, the real action at CPAC was happening on the convention floor below. HuffPost Live brought along their intern Max to investigate.
Watch the clip here.
03/08/2014 6:45 PM EST
Palin Closes With 'The Best Is Yet To Come'
"Stand up and stiffen your spine," she added, drawing loud applause from the crowd to close out the three-day conference.
03/08/2014 6:42 PM EST
Palin: 'The Age Of Obama Is Almost Over'
She added that it is "the end of an error," calling the president the "lamest of lame ducks."
03/08/2014 6:40 PM EST
Palin: Only Mama Grizzlies Can Say 'Hear Me Roar'
Palin lets the women of America know that conservatives' values are "family, faith and freedom," adding that females are "happy to lead the charge" for the movement.
"We're the party with the plank that protects even our littlest sisters in the womb," Palin said making a subtle reference to conservative beliefs on abortion.
03/08/2014 6:37 PM EST
Palin Talking Duck Dynasty, Says Conservatives Won The Fight
She credits Phil Robertson for battling back on his remarks that being gay is a sin, adding that "his fight was our fight and we pushed back and we won."
03/08/2014 6:33 PM EST
Palin Hits Democrats, Harry Reid
Palin charges that the Democratic Party's agenda is "failure and fiasco on steroids." She also went after Senate Majority Leader Harry Reid (D-Nev.), saying he would either end up being Senate Minority Leader, or a blackjack dealer, where "everything stays in Vegas."
03/08/2014 6:30 PM EST
Palin: 'The Only Thing That Stands In The Way Of A Bad Guy With A Nuke, Is A Good Guy With A Nuke'
"Hat tip, NRA!," she exclaimed for a punctuation mark.
03/08/2014 6:26 PM EST
Palin Serenaded To 'Run Sarah!' Chants
And she responds by saying she didn't get a chance to run this morning. The crowd seemed to be prodding her to run for president.
03/08/2014 6:22 PM EST
Palin Unveils Her Own Dr. Seuss Riff
"I do not like this spending spree. We're smart, we know that nothings free." @SarahPalinUSA #CPAC2014

— CPAC (@CPACnews) 4 years ago