A woman trying to kill herself and her 8-month-old baby crashed her SUV into two cars before crashing into a suburban Chicago home Tuesday afternoon, police said.
Elizabeth Kruger, 28, of suburban Evergreen Park was charged Thursday with one count of attempted murder, two counts of aggravated battery, one count of aggravated fleeing and eluding, one count of leaving the scene of a personal injury accident, one count of endangering the life of a child, possession of drug paraphernalia and a multitude of traffic offenses, according to NBC Chicago.
Kruger and her infant son were hospitalized following the incident; Kruger was treated and released while the baby remained hospitalized Thursday in good condition, the Tribune reports.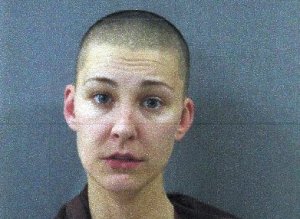 Police say twenty-eight-year-old Elizabeth Kruger tried to commit suicide by car crash with her baby strapped in with her.
"She wanted to commit suicide by striking another vehicle and knowing that doing so would have ended the life of her infant," police told the Tribune after speaking with Kruger and witnesses. "Since the first collision 'failed' in her attempt, she continued until she again caused another collision on 87th Street and New England."
Police say with her baby strapped inside her white BMW SUV, Kruger first attempted to commit suicide by crashing her vehicle into another car near 79th Street and New England Avenue in Burbank, a small city on the southwest edge of Chicago.
When the first suicide crash attempt failed, Kruger allegedly ran a stop sign a few blocks south and collided with another car. CBS Chicago reports that by the second crash, Burbank police were in tow trying to catch up with Kruger after they were flagged down by witnesses from the first crash.
After the second hit-and-run, Kruger smashed her SUV into a house on the southwest corner of the intersection at 87th Street and New England.
No one in the home was injured, but drivers in both cars hit were hospitalized.
Kruger was ordered held on a $1 million bond Thursday. Meanwhile, the Department of Child and Family Services was reportedly devising a "safety plan" for the baby, who has a 5-year-old brother as well.