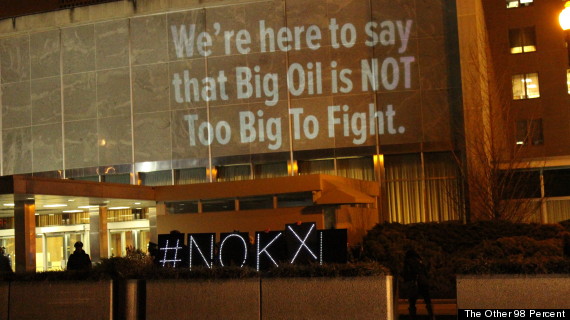 The U.S. Department of State opened a 30-day public comment period in February for the proposed Keystone XL pipeline, and they received a really clear message on the eve of the March 7 deadline.
On Thursday night, The Other 98% -- joined by 350.org, NYC's Light Brigade and local climate activists -- projected anti-Keystone XL messages on the State Department building. Using "The Illuminator," a large­-scale projector, they highlighted comments asking Secretary of State John Kerry to reject Keystone XL, according to a press release. The event followed a massive Keystone XL protest outside the White House on Sunday.
"We are fed up with the State Department's conflict-ridden, Big Carbon influenced, Keystone XL consideration process. That's why, with the help of 'The Illuminator,' we're going to light up the State Department with the comments they'd prefer to ignore," Nicole Carty, actions coordinator for The Other 98%, said.
More information can be found on the event's Facebook page.

BEFORE YOU GO
PHOTO GALLERY
Keystone XL Protests