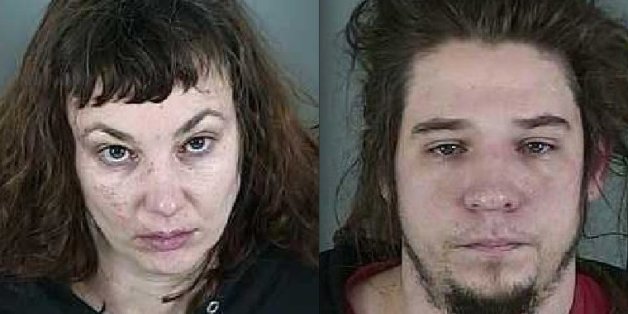 It's not delivery, it's destruction.
Leticia Kagele, 36, and Matthew Bossard, 32, were arrested Monday night after allegedly using moonshine to set a pizza restaurant on fire, KPTV reports.
Employees of Whirled Pies in Eugene, Ore., said that Kagele and Bossard were drunk and were in the restaurant for "the whole night" prior to the 10 p.m. closing time, according to KMTR.
Workers eventually got the pair out the door and locked the restaurant up for the night. But the inebriated couple didn't go quietly. Witnesses said that Kagele and Bossard banged on the door so hard that things inside the restaurant fell to the ground.
As staff called police, the couple allegedly smashed through a window. Bossard is said to have grabbed a curtain, made a wick out of it and used it to light a bottle of homemade moonshine on fire.
"I thought he was going to blow the place down," employee Soren Kaldaho said.
Fortunately, the fire resulted in no serious damage, according to The Register-Guard.
The staff of Whirled Pies has apparently kept a great sense of humor about the situation. In a Tuesday Facebook post, they thanked the community for their support and said they would be offering a "flame thrower" pizza this weekend.
However, police weren't too amused by the suspects' shenanigans. Both Bossard and Kagele are charged with arson and burglary, while Bossard is facing an additional charge of criminal mischief.
BEFORE YOU GO
PHOTO GALLERY
Dumb Criminals: Mugshot Gallery