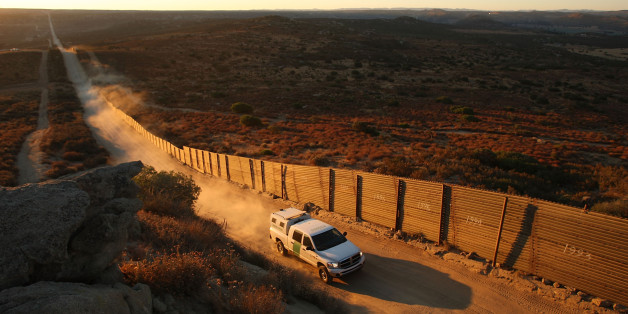 Border Patrol agents will face new restrictions on its ability to shoot at people who throw rocks, the agency's chief said Friday.
The new policy marks a reversal from Border Patrol Chief Mike Fisher's announcement in November that agents could continue to use lethal force against rock throwers, casting aside recommendations from the Police Executive Research Forum, a nonprofit group that advises law enforcement. Fisher told the Associated Press then that such a policy would be "too restrictive."
The turnaround came after the Los Angeles Times reported last month that the Forum's review criticized the Border Patrol for a "lack of diligence" in investigating why agents fired their guns, and said that in some instances agents purposefully stepped in front of moving cars to justify shooting at them. U.S. Customs and Border Protection had attempted to keep the full 21-page report from being disclosed to the public, according to the Times.
Under the new policy announced Friday, Border Patrol agents must distance themselves from rock throwers or seek cover. Agents may not shoot at people throwing rocks unless the attacker "poses an imminent danger of death or serious injury," Fisher's directive says.
The directive also prohibits agents from stepping in the path of moving cars and puts new restrictions on opening fire at moving vehicles.
The Border Patrol had faced mounting criticism both within the United States and from the Mexican government over responding to rocks with gunfire.
The Forum's report documents 67 shooting incidents -- not all of which involved rocks -- between 2010 and 2012 that led to 19 deaths, according to the Los Angeles Times.
In one widely reported case, an autopsy revealed last year that a 16-year-old Mexican boy, José Antonio Elena Rodríguez, was shot eight times by a Border Patrol agent shooting into the Mexican city of Nogales from the U.S. side of the border. The Border Patrol said the agent opened fire after unidentified suspected drug dealers refused orders to stop throwing rocks, according to the Associated Press. All but one of the bullets struck Elena Rodríguez in the back, the autopsy said.
The Border Patrol has defended its actions by pointing out that rocks pelted toward the head can be lethal and that agents need to be able to defend themselves. Border Patrol agents have faced some 1,713 assaults with rocks, according to Fisher's directive.
BEFORE YOU GO
PHOTO GALLERY
6 Misconceptions About The Border