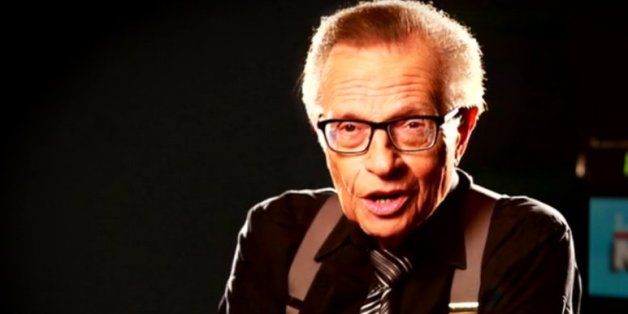 Larry King does not appear to be pulling his programs from Russia Today anytime soon, as long as the network doesn't try to change them.
The talk show legend spoke with the Daily Beast on Thursday about his relationship with the Kremlin-funded TV network, which runs "Larry King Now" and "Politicking," asserting that he is "removed" from the pro-Russian views of the network.
"I don't work for RT," he said. "It's a deal made between the companies.... They just license our shows."
King said that he has no problem being featured on RT America as long as "it always runs in full." King added that "to my knowledge, they've never edited a show."
"It would be bad if they tried to edit out things-- I wouldn't put up with it," King said. "As long as they don't, as long as they're carrying stuff critical of them, I've got no problem with it."
A number of protests have occurred at the Russian-owned news channel in the last week following Russia's decision to invade Ukraine. On Wednesday, RT anchor Liz Wahl resigned on air stating that she cannot work for a network that "whitewashes the actions of Putin." Her dramatic exit followed anchor Abby Martin stating during her broadcast that she is opposed to Russia taking military action.
Critics have since pressured King to follow in their footsteps, with talk of him leaving the network in question. The Daily Beast reported that King seemed rather unfamiliar with Wahl's experience at RT.
"Did they block her?" he asked. "Did they tell her she couldn't say something?"
(h/t: Politico)
BEFORE YOU GO
PHOTO GALLERY
This Year's Best Political Photos