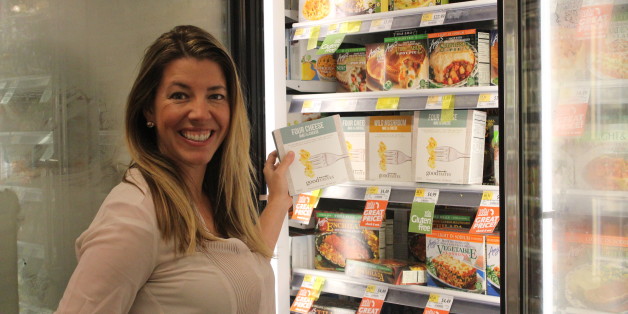 One of the reasons I started my website is that I wanted a place for women to come together and dream. We women need to know that we don't have to hang on to an old dream that has stopped nurturing us -- that there is always time to start a new dream. This week's story is about a mom who grew up around fresh produce on her family's farm. When Sarah Pike had a family of her own, she decided to bring her passion for wholesome meals to market -- and built a million dollar business in the process! -- Marlo, MarloThomas.com
By Lori Weiss
Growing up on an organic farm in Maine, Sarah Pike learned the importance of hard work and the benefits of a really big freezer early on. As the oldest of six siblings, while her parents ran the family farm, Sarah would make sure there was always a hot meal on the dinner table. And for every lasagna, quiche or pot pie she made, there were always two or three more that she'd stock away -- comfort food for a day when there simply wasn't time to cook.
"I took my first cooking class at five," she laughed. "It was mostly trail mix and homemade Play-Doh, but by middle school, the Betty Crocker cookbook had become my bible. My mother was so busy working outside that she gave me free reign in the kitchen, and she taught me to use the freezer as a tool. On a farm, putting up food for winter was part of our existence and survival."
Sarah took those lessons with her to college -- working in restaurants and in her spare time, reading cookbooks like they were novels. But after witnessing the amount of stress that her bosses were under, she knew opening a restaurant of her own wasn't a path she wanted to follow.
"I knew my internal compass was guiding me towards something with food," she recalled, "but at that point, I wasn't sure where I wanted it to lead. So I kept cooking for friends and family, but I moved to San Francisco and began a career in internet marketing."
As time passed, Sarah got married and she and her husband, Josh, who also grew up in Maine, began thinking about having children. They moved back to the Northeast, to be close to family -- and that's when that inner compass started sounding alarms.
"Once I had our son, Ben, I started consulting from home. But it made me think about what I was doing. I loved that little boy so much that I wanted to be sure the work I was doing was really speaking to me. It had to be worth the time it was taking away from him."
And there was something else that was weighing heavily on Sarah's mind. A college friend had died in an airplane crash at the age of 23. He'd just left a finance job to follow his passion for furniture making. His life cut short, he never had a chance to live his dream.
Sarah started thinking more about moms like herself, who were torn between their families and careers. And that's when it hit her -- if she could make one thing easier for them, like preparing dinner, in the way she had done for her own mother, maybe she could build a business around it.
What she never foresaw, was that the lessons she learned as a child would help her launch a million dollar business, and ultimately put her food back in the freezer. Only this time, the freezer would feed a few more people -- because there would be lots of them -- at stores like Whole Foods and Target. But first, she would begin by feeding her neighbors.
Article continues below slideshow
"I thought I could create a meal delivery service," Sarah explained, "for really busy people who loved to cook with healthy, natural ingredients, but didn't have the time. The dinner kits would be 80% done, and I'd include a recipe card, so parents would still get that feeling of ownership, rather than feeling like they were just warming something up."
Sarah found a commercial kitchen and began whipping up dishes like Sweet Potato Chicken Croquettes, Hoisen Pork Wraps, and an array of pasta dishes. She put the word out to her neighbors, and it wasn't long before the busy mom was working around the clock and driving all over town in a refrigerated van.
"I became that person you'd always see running. I never walked. I ran. I'd park my car and run into the grocery store. I'd run into the post office. I was constantly running. My day began at 5:30 AM and I was still working until one in the morning. By the end of 2008, the only current topic I was aware of was that Obama had been elected president."
And in an effort to make even more people aware of her fledgling business, she convinced a local wine store to stock some of her customer's favorites. She'd been making a different flavor of gourmet Macaroni & Cheese each month -- comfort food with a twist -- creamy varieties infused with wild mushrooms, bacon and shallots, even brie and fig. So she took a page from her childhood and made a little more -- and packed a freezer in the merchant's store.
"That wholesale piece was really just to drive the meal delivery service," Sarah said with a smile, "but then it hit me, it was a lot easier to deliver a case to a store than it was to drive all over town."
So Sarah began bringing the gourmet dishes, she'd named Good Tastes, to lots of other local stores. She even started a Mac & Cheese of the month club -- shipping, rather than driving her comfort food throughout the country. And then she decided to step outside of her own comfortable surroundings. She brought Good Tastes to the Fancy Food Show in New York.
"I really didn't know what I was doing. I had no distribution channels set up. People would ask about brokers and I didn't have any idea what they were talking about. But what I did know was that I had something unique and different. And I was right. People stopped in their tracks when they saw Brie and Fig Macaroni & Cheese."
Among those people were buyers from HSN. They ordered 4000 boxes that needed to be delivered within a month. And that wasn't the only delivery Sarah had on her mind. She'd just found out that she was pregnant with her second child.
"We weren't set up for that type of manufacturing. So there I was, in my first trimester, fighting morning sickness, while I made massive quantities of Mac & Cheese -- all the while, worrying about the ten pounds the camera adds!"
Clearly the entire country was looking for comfort, because Sarah sold out -- not only on HSN, but in a flash sale on One Kings Lane. It wasn't long before Good Tastes made its way to the freezer section of Whole Foods and Sarah found a manufacturing partner.
"Instead of chopping 200 pounds of cheese by hand," she remembered, "I watched them press a button and it was done! I completely teared up. Some girls get excited about diamonds. I get excited about really great manufacturing partners."
Within five years, Sarah went from delivering door to door, to manufacturing enough Mac & Cheese for 600 stores. By early 2013, she caught the eye and interest of an angel investor who offered to help her get to the next step. They pulled together a team of advisors who'd worked with brands like Kashi and Pepsi, but it was over lunch with a friend from her past, that Sarah would see her future.
"My friend is Columbian and she wanted me to try the foods that she had grown up with. So we went to a South American restaurant and she ordered enough food for ten people! Afterwards, she wanted to stop at a Latin market that carried ingredients she had a hard time finding close to home, so I went with her. As we walked down the freezer aisle, I was blown away by the lack of Latin American foods in the freezer section. All I saw was Stouffers, Lean Cuisine and some Tex Mex interpretations in bright yellow boxes."
And that's when the woman who grew up cooking for her family, decided it was time to offer a taste of home to another culture. She went back to her kitchen and developed recipes for dishes like Chickpea & Sweet Potato Picadillo, Chicken Tamal, Rice with Chorizo and Cheese and a line of Empanadas -- all made with natural ingredients. She named the brand Buen Sabor -- the Spanish words for Good Taste -- and with the help of her team, this May, it will begin to roll out at 200 Target stores.
And while she's got a lot to be proud of, what seems to bring Sarah the most fulfillment, is that many of the ingredients she uses can be traced back to family farms like the one she was raised on. The creameries and farmers she partners with can be tracked on her website -- once again, bringing comfort to busy parents, who want the best for their kids.
"I get so much joy from feeding people and being able to do it in this large of a way," Sarah said softly, "sometimes I have to pinch myself to be sure it's really happening. I don't want to make this sound easy or to underestimate the cost. It can be scary. But for me it would have been scarier to never try -- because if you don't take that leap, you'll never find out where you could land."
Add Marlo On Facebook:
Follow Marlo on Twitter:
Sign up to receive my email newsletter each week - It will keep you up-to-date on upcoming articles, Mondays with Marlo guests, videos, and more!