When 52-year-old Otis Orth got Amber, a golden retriever, for his birthday back in December, he didn't realize that his loyal companion would end up saving his life, the Alaska Dispatch reported.
Orth, who lives in a homestead in Trapper Creek, Alaska, took his snowmachine and Amber into town to get supplies on Sunday afternoon, according to KTNA. There was an unseen dip in the road which caused the machine to buck, and sent them flying almost 50 feet away.
Orth was barely able to move at all and had sunk so far into the snow that he couldn't be seen from the trail -- making it difficult for passersby to spot him. He and Amber spent the night in the snow, cuddling together for warmth.
The following day, Orth was still unable to move his arms or legs, the Alaska Dispatch reported. Every time he heard snowmachines pass, he would try to get Amber to go get them, but she didn't want to stray too far from her pal.
Eventually, on Monday afternoon, Amber was able to run toward two men, Tom Taylor and his brother, Maynard, who were driving snowmachines. The men sped up because they didn't want Amber following them, but she kept barking, KTNA reported.
The Taylors called state troopers and EMTs after they spotted Orth, and he was airlifted to Providence Alaska Medical Center for treatment.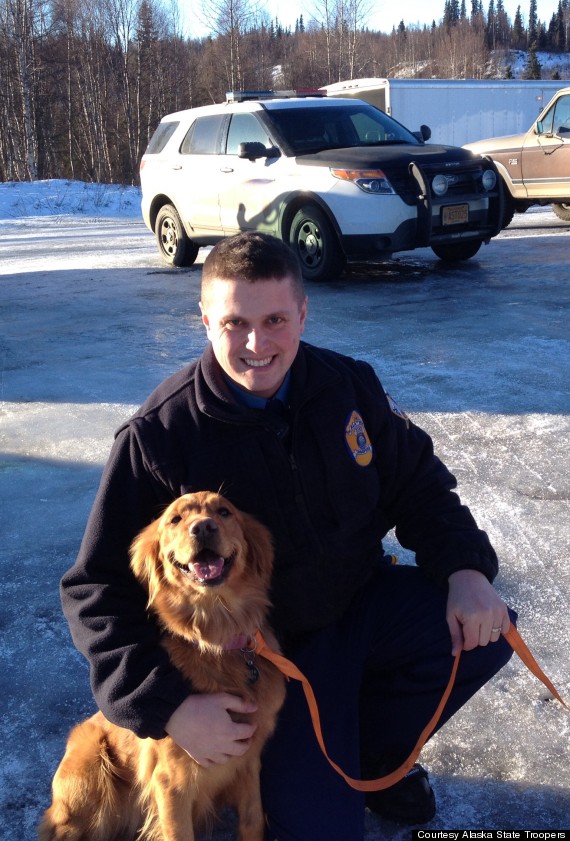 According to the Anchorage Daily News, Orth suffered injuries to his neck and arms, as well as frostbite on his foot which may lead to the amputation of some of his toes. Still, he considers himself lucky.
"I owe that dog my life," he told the outlet from his hospital bed. "If I had stayed out there one more night I wouldn't have made it."
BEFORE YOU GO
PHOTO GALLERY
13 Animals Who Are Secretly Batman