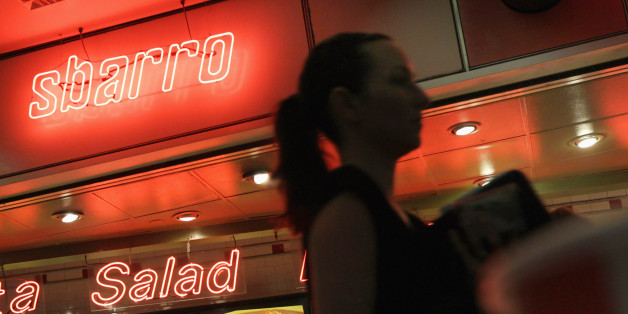 The world many of us knew as teenagers is over: It's no longer cool to hang out at the mall and grab a slice of pizza.
That's hurting Sbarro, probably the most famous purveyor of mall pizza. The company is planning to file for bankruptcy protection as early as Sunday, the Wall Street Journal reported on Thursday. The news came less than a month after the chain announced it would be closing 155 of the 400 restaurants it owns and almost three years after its last bankruptcy filing.
Sbarro is dealing with two challenges. First, customers appear to be cooling to pizza restaurants. Sales at U.S. pizza stores inched up from $36 billion in 2008 to just $38.3 billion in 2013, according to data compiled by EuroMonitor International.
That's growth, but just barely. The industry has been "struggling" for the past decade, according to Andy Brennan, an analyst at IBISWorld. Americans looking for a quick bite are increasingly more interested in custom-made dishes with fresh ingredients than a pizza slice sweating under a heat lamp.
"The rise of Chipotle, Panera, those fast-casual concepts have really grabbed consumers," Brennan said. "Definitely over the last decade there's been a big move away from pizza."
The chart below from IBISWorld projects relatively flat pizza revenue over the next few years: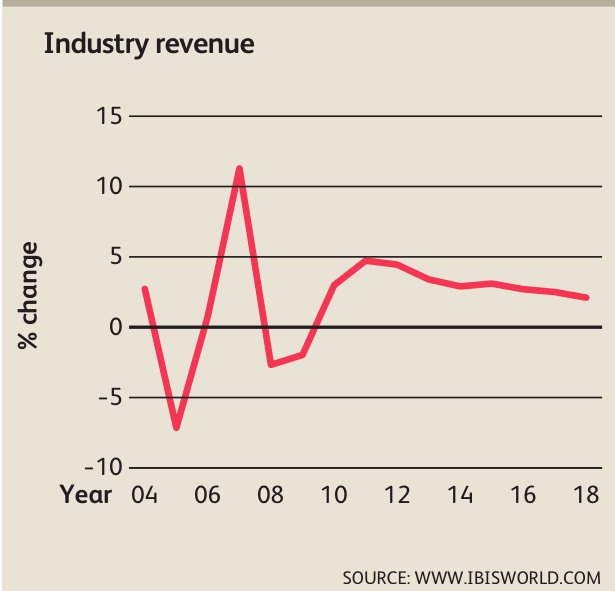 But even if Sbarro were offering diners the chance to get fresh, custom pies -- a concept the company and its competitors are trying out -- the chain would likely still be struggling.
That's because most of its stores are in malls, places Americans don't really go any more. There's even a whole blog, deadmalls.com, dedicated to our waning interest in those palaces of consumerism. Other restaurant chains that primarily operate in malls, like Hot Dog on a Stick, are suffering, too.
"The whole mall concept has become a little bit tired," Brennan said. "The successful chains at the moment are really doing well with stand-alone stores in cities."
The chart below from REIS Inc. shows how mall vacancy rates have jumped since the recession and have only slowly retreated from their highs. And the future of malls is still looking pretty bleak; 15 percent of U.S. malls will likely fail or become non-retail space in the next 10 years, according to Green Street Advisors data cited by Business Insider.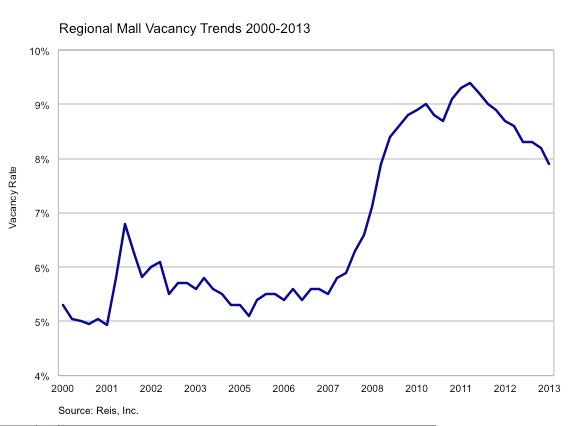 Sbarro is testing stand-alone stores, called Pizza Cucinova, where customers can get made-to-order pizzas with fancy toppings like gorgonzola cheese.
The company also plans to open some smaller, stand-alone stores under the name Sbarro Brooklyn Fresh, in hopes of jazzing up the brand.
"There's nothing that really sticks out about Sbarro," Brennan said.
Nothing a little Brooklyn cool can't fix, right?
BEFORE YOU GO
PHOTO GALLERY
10 Things The Fast Food Industry Doesn't Want You To Know