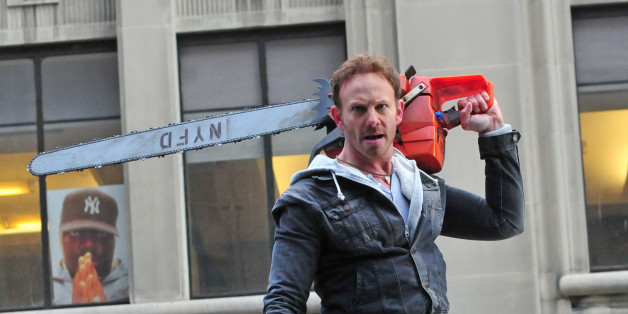 Mark your calendars, movie fans. The SyFy Channel's "Sharknado 2: The Second One" finally has a premiere date: Wednesday, July 30, at 9 p.m. PT/ET.
The Hollywood Reporter broke the news, along with some exclusive casting information, on Friday. Gossip blogger Perez Hilton will reportedly have a cameo in the film, which takes place in New York City. Joining him will be Biz Markie, Salt-N-Pepa's Pepa (Sandra Denton), Robert Klein and professional wrestler Kurt Angle.
Little is known about the roles of these new additions. However, THR learned Klein will be playing a former New York City mayor, and Angle will be the FDNY fire chief in the follow-up to the unexpectedly successful 2013 made-for-TV-movie in which a tornado lifts sharks out of the ocean and carries them over the city of Los Angeles.
The sequel was given the green light just weeks after the premiere of the original movie, which aired to 1.4 million total viewers. After some buzz on social media, the encore airing delivered another 1.9 million viewers, Entertainment Weekly reports.
As Deadline previously reported, other cast members include Vivica A. Fox, Mark McGrath, Kelly Osbourne, Andy Dick, Judah Friedlander and Judd Hirsch. Tara Reid and Ian Ziering will be reprising their roles from the first film, because why not?
To see some of these stars in action, check out this rather painful video from the set of "Sharknado 2," courtesy of TMZ: