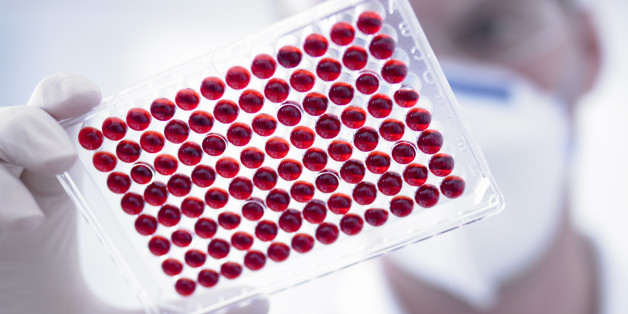 Predicting Alzheimer's could be as easy as a quick blood test, a breakthrough discovery suggests. Researchers at Georgetown University Medical Center believe a simple blood test could detect with 90 percent accuracy whether or not a healthy individual will develop Alzheimer's or amnestic mild cognitive impairment within the next three years.
A five-year study looked at the blood samples of 525 people aged 70 and older and analyzed their composition. At the start of the study, 46 participants were diagnosed with either Alzheimer's or aMCI at the start of the study and 28 others developed symptoms over the term. Researchers were able to identify 10 specific lipids that predicted cognitive decline was imminent.
"Our novel blood test offers the potential to identify people at risk for progressive cognitive decline and can change how patients, their families and treating physicians plan for and manage the disorder," study author Howard J. Federoff said in a release.
Early detection is key in fighting off Alzheimer's and cognitive decline, for which there is no cure. It can help patients get the maximum benefits from existing treatments, maintain independence for longer, and also allow for future planning.
Knowing the importance of an early diagnosis, researchers have tried time and again to develop simple tests to get a leg up on the disease. Earlier this year, researchers at Ohio State University unveiled a 15-minute pen and paper test which was able to detect cognitive decline in four out of five people. Another study found a way to sniff out Alzheimer's -- literally -- with a peanut butter smell test.
"The preclinical state of the disease offers a window of opportunity for timely disease-modifying intervention," Federoff said. "Biomarkers such as ours that define this asymptomatic period are critical for successful development and application of these therapeutics."
As dementia rates rise, researchers believe preventive studies such as this will be critical in finding a cure. Some estimates say the number of people living with dementia will double to nearly 70 million by 2030.
"We consider our results a major step toward the commercialization of a preclinical disease biomarker test that could be useful for large-scale screening to identify at-risk individuals," Federoff says.
BEFORE YOU GO
PHOTO GALLERY
Alzheimer's Prevention Recipes