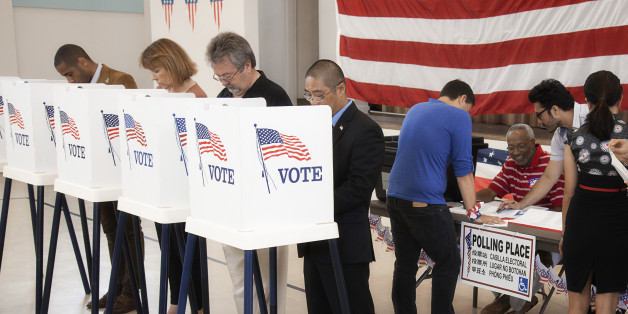 The polls on the Florida 13 special election point to a very close finish, but are missing cell-phone -only households creating the potential for a polling miss? A new CNN poll gives the President a net approval rating on Ukraine. And the Texas Tribune pollsters speculate about what changed between their final snapshot and the Texas primary. This is HuffPollster for Monday, March 10, 2014.
FINAL POLLS FIND TOSS-UP IN FLORIDA 13TH - The final polls on
Tuesday's special election in Florida's 13th District point to a very close finish between Democrat Alex Sink and Republican David Jolly. A new automated, recorded voice survey sponsored by the pro-Sink League of Conservation Voters and conducted by the Democratic firm Public Policy Polly (PPP) gives Sink a three point edge (48 to 45 percent). Two more automated polls have been conducted in the last two weeks. One, commissioned by Republican web site Red Racing Horses, gave Jolly a 2 point advantage. The second, conducted by St. Pete Polls, found a tie race. The Pollster poll tracking model gives Sink a slight edge (46.1 to 44.4 percent) but is just 69 percent confident that her lead is real -- far from the sort of margin that qualifies as statistically significant. And that level of confidence assumes that the polling data is collectively accurate, an assumption which often fails in special congressional district elections. [PPP, Pollster]
Missing cell phone-only households - Could the recent polls be collectively wrong? Consider that of the ten publicly released polls conducted on this race in 2014, five had partisan sponsorship (two by the Democrats, three by the Republicans). And perhaps more important, just one of the ten -- conducted in early February by the Tampa Bay Times and Bay News 9 -- used live interviewers and contacted dual samples of both landline and mobile telephone numbers. Most of the automated polls, including those from PPP, Red Racing Horses and St. Pete Polls disclosed no special effort reach voters in cell-phone only households (PPP's Tom Jensen confirms to HuffPollster via email that their latest Florida 13 poll is landline only). Federal law prohibits the use of auto-dialers to make unsolicited calls of mobile phones. Of the automated pollsters, only St. Leo University supplemented their automated calls to landline phones with internet interviews of cell-only households identified and sampled from an "opt-in" online panel. The two polls that did attempt to reach cell-only households -- by the Tampa Bay Times and St. Leo University -- showed Sink leading by margins of 9 and 7 percentage points respectively in early February.
CNN: NET POSITIVE RATING ON UKRAINE HANDLING - Luke Johnson: "More Americans support President Barack Obama's handling of the crisis in Ukraine than those who don't approve of his actions, but a majority oppose economic aid to the country or backing out of June's G-8 Summit, a CNN poll released Monday said. Forty-eight percent of Americans back Obama's response, while 43 percent disapprove and 9 percent are unsure. But the crisis has not improved Obama's approval rating in general -- 43 percent approve of him overall, while 53 percent disapprove...Perhaps most troubling for Obama is the lack of support for economic aid to Ukraine or canceling June's G-8 Summit in Sochi, Russia. Almost six in 10 say no to canceling the summit, contrasted with a Thursday YouGov poll, which found 52 percent of respondents favor canceling the G8 Summit. In the Monday CNN poll, 52 percent said they oppose economic aid to Ukraine, while 46 percent support it. Over three-quarters of respondents oppose sending military aid to Ukraine." [HuffPost, CNN]
Contrast with YouGov result - A YouGov survey conducted March 3-4, found 34 percent of U.S. adults approved of President Obama's handling of the situation in Ukraine, 39 percent disapproved and 27 percent were unsure. Respondents to YouGov's online survey always see a "not sure" option while the live interviewers that conduct the CNN/ORC telephone survey offer only approve or disapprove as options. In effect, the CNN survey pushes harder for an answer, which explains much of the difference in the results. The YouGov survey also found just 19 percent who said they were following the events in Ukraine "very closely," 45 percent said they were following it "somewhat closely" and more than a third said they were following "not very closely" (21 percent) or not at all (15 percent). The large numbers paying just scant attention create the potential for inconsistent results across polls. [YouGov poll]
TEXAS TRIBUNE POLLSTERS REVIEW THEIR PRE-PRIMARY POLL - Daron Shaw, Jim Henson and Joshua Blank: "The ongoing challenge of public polling is to reconcile popular expectations about what polls "mean" at election time with our own desire to provide the public with information about mass opinion on politics and policy. We begin with the realization that polling results provide an account of public attitudes only at the time the data are collected. However, publicly released polls tend to be taken as a prediction of what will happen on Election Day. As much as we would like this to be the case, and as pleased as we are when the polling results comport with the eventual reality, we don't, in the end, view the results in this way. A situation with (a) a lot of unformed or nonexistent opinions of candidates and (b) active campaigning in multicandidate races with no distinguishing party labels in a notoriously low-turnout election was, and is, likely to create volatility in results and uncertainty about the composition of the electorate...about a fifth of GOP voters for each of the lieutenant governor candidates did not register either a positive or negative opinion toward their preferred candidate. In addition, roughly half of the potential GOP primary voters surveyed in the attorney general and comptroller races originally stated that they hadn't thought enough about the race to form an opinion." [Texas Tribune]
RYAN, CLINTON AMONG IOWA 2016 FAVORITES - Jennifer Jacobs: "If either Paul Ryan or Hillary Clinton truly is on the fence about running for president of the United States, some pop-the-champagne poll numbers from a new Des Moines Register Iowa Poll might encourage them. But if Rick Santorum feels confident he could win Iowa again, the new poll could burst his bubble….Among Iowa adults overall, half think it's "a good idea" that Clinton, the former first lady and former U.S. secretary of state, run again. That's the high-water mark among the six candidates tested….On the GOP side, Republicans clearly want Ryan in the mix again: 67 percent say it's a good idea for the 2012 vice presidential nominee to run for president this time." [Des Moines Register]
Obama approval at record low in the state - Jacobs: "President Barack Obama's job approval rating in Iowa has ticked down yet again, setting a record low for his presidency. Just 36 percent of voting-age Iowans approve of the job that Obama, 52, is doing in leading the nation, according to a new Des Moines Register Iowa Poll. That's 1 percentage point worse than in December, when the news was full of reports about the malfunctioning website for his signature health insurance law, his broken pledge that Americans could keep their current health insurance plan if they liked it, and his so-far fruitless calls for comprehensive immigration reform." [DMR]
Branstad popular, leading challenger - Jason Noble: "With the job approval rating for Gov. Terry Branstad rising and state Sen. Jack Hatch showing no momentum among Iowa voters, the 2014 governor race remains the incumbent's to lose. The Des Moines Register's latest Iowa Poll shows 63 percent of Iowans approve of the job Branstad is doing as governor — his highest rating since the end of his fourth term in 1999….In a head-to-head race, 29 percent of likely voters say they'd choose Hatch, a Des Moines Democrat, compared with 44 percent saying they'd pick Branstad, a Republican. [DMR]
GALLUP FINDS CONTINUING DECLINE IN UNINSURED - Ricardo Alonzo-Zaldivar: "With just three weeks left to sign up under President Barack Obama's health care law, a major survey tracking the rollout finds that the uninsured rate keeps going down. The Gallup-Healthways Well-Being Index, released Monday, found that 15.9 percent of U.S. adults are uninsured thus far in 2014, down from 17.1 percent for the last three months — or calendar quarter— of 2013. That translates roughly to 3 million to 4 million people getting coverage. Gallup said the share of Americans who lack coverage is on track to drop to the lowest quarterly level it measured since 2008, before Obama took office....Gallup found the biggest drop in the uninsured rate was among households making less than $36,000 a year — a decline of 2.8 percentage points. Among blacks, the uninsured rate was down by 2.6 percentage points. It declined by 1 percentage point among whites. But Latinos saw a drop of just eight-tenths of a percentage point. [AP, Gallup]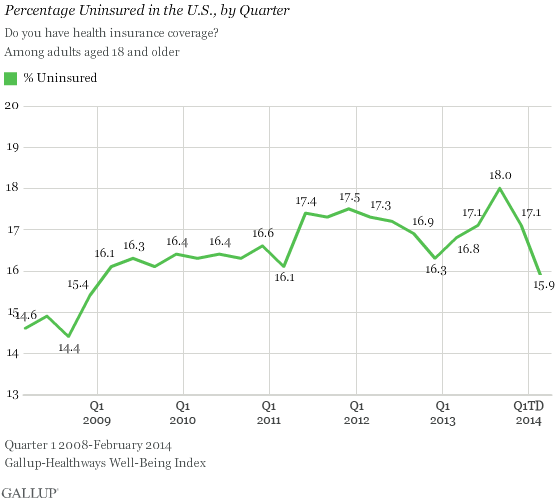 Not a typical poll - More from AP: "The Gallup poll is considered authoritative because it combines the scope and depth found in government surveys with the timeliness of media sampling. Pollsters interview 500 people a day, 350 days a year. The latest health care results were based on more than 28,000 interviews, or about 28 times as many as in a standard national poll."
A note of caution - Jonathan Bernstein: "The latest results need to be reconciled with the finding just six months ago -- in the third quarter of 2013 -- of 18 percent uninsured, the worst-ever rate. In addition, before attributing the apparent increase in coverage to health-care reform, we should remember that other forces, including the improving economy, could have a more important role...The new data should, at the very least, make us slightly more confident that Obamacare isn't radically increasing the net number of uninsured. I wouldn't go much farther than that." [Bloomberg]
MCDONALD: LATINO VOTE TO INCREASE IN IN SWING STATES - Greg Sargent: "A new analysis performed at my request by political scientist Michael McDonald, who heads the United States Elections Project and studies voting patterns, underscores once again the perils this holds for the GOP. The analysis finds that the share of the eligible voting population that is Latino will rise by two percentage points from 2012-2016 in three critical presidential swing states: Florida, Colorado, and Nevada. It will rise by two percentage points in New Mexico, Texas, and Arizona. And it will rise by one percentage point in Virginia, Georgia, and North Carolina. While that last finding may seem negligible, it is a sign demographics in those three states — one purple swing state that's key in presidential elections; the others long reliably red — are trending in a favorable direction for Dems." [WaPost's Plum Line]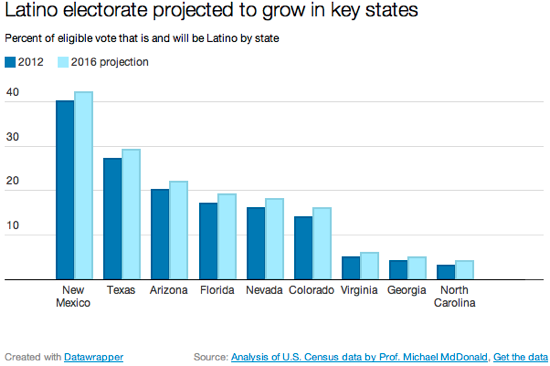 HUFFPOLLSTER VIA EMAIL! - You can receive this daily update every weekday via email! Just enter your email address in the box on the upper right corner of this page, and click "sign up." That's all there is to it (and you can unsubscribe anytime).
MONDAY'S 'OUTLIERS' - Links to the best of news at the intersection of polling, politics and political data:
-Rauner leads Illinois's GOP gubernatorial primary with two weeks to go. [Chicago Tribune/WGN-TV]
-61 percent of Republicans under 30 support same sex marriage. [Pew Research]
-Gov. Rick Scott's "awful" poll numbers make Florida Republicans queasy. [Miami Herald]
-An internal POS (R) poll for Mitch McConnell's super PAC gives him a big lead over primary challenger Matt Bevin. [Politico]
-Jim Geraghty offers reasons why either Alex Sink or David Jolly could win in Florida's 13th congressional district on Tuesday. [National Review]
-Women win a greater percentage of special elections to the House than general elections. [Smart Politics]
-Darrell Issa is pushing a bill to make the American Community Survey voluntary. [HuffPost]
-Jon Chait sees the liberalism of the youngest voters will make the larger electorate steadily more liberal. [NYMag]
-John Sides finds the youngest millennials, who are coming of age politically during the Obama presidency, not "quite as keen on liberalism" as those slightly older. [WaPost's Monkey Cage]
-Dan Balz argues for rethinking the 2016 Republican nomination contest. [WaPost]
-Stu Rothenberg doesn't think GOP dissatisfaction with their own party will hurt them in the midterms. [Roll Call]
-Matthew Dickinson summarizes "five enduring myths" about the 2012 election. [Presidential Power]
-Stephen Wolf finds Democrats would lose big without majority-minority districts. [DailyKos via @Nate_Cohn]
-Nate Silver's FiveThirtyEight will relaunch on March 17. [Mashable]
-"The Upshot" is the New York Times' replacement for FiveThirtyEight. [Quartz]
-A tribute to Merv Field, founder of California's Field Poll, on his 93rd birthday. [CalBuzz via @LSimonetta]