After a homeless man's unexpected kind gesture was caught on camera last week, the Internet has decided to repay him for restoring our faith in humanity.
Over the weekend, donors across the country emptied their pockets for Eric, a homeless man who brought YouTube prankster Magic of Rahat to tears.
Rahat, who typically uses his craft to terrify his victims, pulled an uncharacteristically heartwarming move last Tuesday. The funny guy gave a lottery ticket to Eric, and arranged for a store clerk to pretend that it was a winning ticket and to give $1,000 to the homeless man.
Eric could barely believe his good fortune when the clerk counted out the bills before his eyes. But, just as soon as the grateful man collected the cash, he turned to Rahat and unequivocally said, "I would like to share it."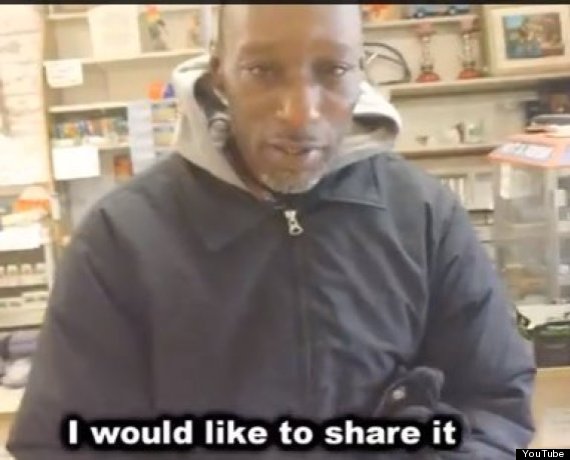 The homeless man's selfless gesture immediately went viral, inspiring fans to ask Rahat to help them do something for Eric, too.
Rahat set up a fundraising page on Thursday with the hopes of collecting $20,000 to help Eric get back on his feet. As of Monday afternoon, the campaign had collected more than $30,000.
Rahat has also continued spending time with Eric. He has posted fundraising updates on Twitter, and shared a photo of himself, his videographer, Trey, and Eric after the three had lunch together on Sunday.
During an "Ask Me Anything" on Reddit on Thursday, Rahat said that he put Eric up in a hotel for two weeks.
Some critics have questioned why Rahat went to such great lengths to devise a prank when he could have just handed Eric the money in the first place. But Rahat said he wouldn't have had it any other way.
"I wanted to create a moment of magic with him winning the lottery," Rahat wrote on Reddit. "I could've just went up to him and gave him $1000, but I wanted to do it in a unique way."
Watch the original "moment of magic" in the video below and find out how you can help Eric here.
BEFORE YOU GO
PHOTO GALLERY
Inspirational Sticky Notes