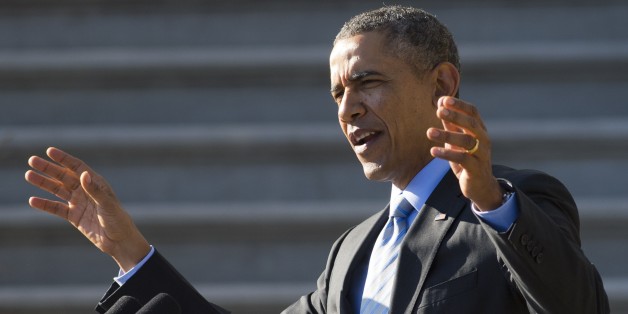 WASHINGTON -- In May 2011, a group of freshmen House Republicans wrote a letter to the White House calling for a serious, sober conversation on entitlement reform.
"At present, America's vital entitlement programs are in their last years of solvency," read the letter, which was signed by 42 members of Congress. "It is high time both parties come together to have a commonsense conversation to prevent the collapse of institutions on which millions of seniors rely on and save Medicare for our children and grandchildren."
The message wasn't particularly newsworthy. Republicans have been beating the drum of Medicare reform for quite a while. It was the timing that turned heads. The year prior, many of those same Republicans had won office by running firmly against the Medicare cuts that were part of President Barack Obama's Affordable Care Act. Five months into their service, they were pulling an about-face.
"We've all been guilty at one time or another of playing partisan politics with key issues facing our country, but now is the time to hit the reset button," said Rep. Adam Kinzinger (R-Ill.), one of the letter's organizers, in what seemed like an attempt to shield himself from charges of hypocrisy.
Nearly three years later, that reset button has yet to be hit.
The debate over how to reform Medicare has seen near-agreements (the multiple failed versions of a "grand bargain") and multiple flare-ups.
Along the way, political opportunism has been ever present. Republicans never relented on their attacks over Obamacare's cuts. Democrats, in turn, noted that Republicans incorporated the same cuts in their own budget plans (designating the savings for deficit reduction, not to pay for health care subsidies) and pointed out that those cuts actually are projected to extend Medicare's solvency for eight years. Democrats have also escalated matters for their own benefit. Perhaps the most memorable moment was the ad launched against Rep. Paul Ryan's proposal to turn Medicare into a quasi-voucher system -- a spot that featured a grandmother being pushed off her rocker and over a cliff by an actor vaguely resembling the Wisconsin Republican.
The dynamic is holding true once again this election cycle. Over the past few weeks, congressional Republicans have unsparingly criticized the Obama administration for the Medicare Advantage cuts in the Affordable Care Act, which are now estimated to total more than $700 billion over 10 years. Those on the attack include some of the same lawmakers who signed the 2011 letter urging the president to have a calm discussion about Medicare reform.
Take, for example, Rep. Cory Gardner (R-Colo.), a signatory of that letter. Shortly after announcing his candidacy for the Senate this year, he maligned his opponent, Sen. Mark Udall (D-Colo.), for voting "to cut seniors and Medicare Advantage." Former Rep. Bobby Schilling (R-Ill.), a signatory who is now running to return to Congress, has declared that "Obamacare is attacking seniors by taking away their Medicare Advantage plans." Former Rep. Frank Guinta (R-N.H.), another signatory aiming to return to the House, has accused his opponent, Rep. Carol Shea-Porter (D-N.H.), of hiding as "Obamacare hurts Granite State Seniors."
"Many seniors have already lost the doctors they have trusted for decades, and now the nearly 16 million who rely on Medicare Advantage will not be able to access the care they want," Guinta's press release read.
The cycle, in short, has been completed. Three years ago, Rep. Alan Nunnelee (R-Miss.), presenting that letter in a press conference, warned that if politicians "follow the traditional model of this town, every side retreats to the four corners of the room and screams at each other." Today, the screaming is audible.
The quest for electoral advantage has a way of sparking these types of reversals. The pattern usually goes like this: One party finds a political edge in warning seniors about the reduced benefits that will come once the other side gets their hands on Medicare. If all goes well, that line helps the first party win additional seats in Congress, if not the presidency itself, after which the same people who partook in the "Mediscare" turn around, express modest regret for the tone of the election and insist that the time has come to get serious.
On Jan. 29, 2010, it was President Obama making the pitch while appearing before the House Republican retreat in Baltimore. "At what point can we have a serious conversation about Medicare and its long-term liability … or a serious conversation about budget and debt in which we're not simply trying to position ourselves politically?" he asked attendees
In February 2012, Ryan made a strikingly similar plea. Speaking before reporters at a Christian Science Monitor breakfast series, he called Mediscare tactics "cynical" and urged those up for election to cut it out.
"[Voters] don't want to be pandered to like children," Ryan said. "When all these sort of pandering ads occur -- there's so much of this stuff these days ... people are just sort of desensitizing to this."
The Obama reelection campaign and the Romney-Ryan ticket would ditch the solemnity and exchange broadsides throughout the summer of 2012 over whose policy platform would most harm seniors. Now, however, as Republicans hammer Obama again, Ryan has been relatively muted. His name was notably absent from a letter signed by a half-dozen top House Republicans expressing "deep concern about the impact of the cuts." He hinted recently on MSNBC that his budget would once again include those cuts, though with moderations to strengthen Medicare (what those moderations might be he didn't elaborate).
While politicians have contorted themselves, perhaps the best example of how political dynamics often determine whether one is conducting the Mediscare or bemoaning it has been the writings of Karl Rove. The longtime GOP strategist writes occasionally about the topic for the Wall Street Journal editorial page, his take usually dependent on the climate. The evolution is below.
Aug. 26, 2009 -– "Obama Targets Medicare Advantage"
Seniors would lose with health 'reform,' and seniors vote.
May 26, 2011 -– "Why the Republican Lost in NY-26"
Next year, Republicans must describe their Medicare reforms plainly, set the record straight vigorously when Democrats demagogue, and go on the attack. Congressional Republicans -- especially in the House -- need a political war college that schools incumbents and challengers in the best way to explain, defend and attack on the issue of Medicare reform.
Aug. 15, 2012 -- "The GOP's Medicare Advantage"
Mr. Romney also has advantages in the contest with Mr. Obama. The president's legislation cuts Medicare by $716 billion to pay for ObamaCare. But because so many baby boomers are turning 65, Medicare is going broke. (Thanks in part to ObamaCare cuts, Medicare's hospital trust fund will be insolvent by 2024, according to the Social Security and Medicare Boards of Trustees.)
April 3, 2013 -- "The Return of the Mediscare-mongers"
The midterm election is still 19 months away, but for some it's never too early for demagoguery. And so this week the Democratic Congressional Campaign Committee launched a new "Mediscare" ad. The targets are 17 Republican congressmen who supported the House budget framework that includes Medicare reforms.
April 17, 2013 -- "Steaming Toward the ObamaCare 'Train Wreck'"
Then there is the Independent Payment Advisory Board, the 15-person committee charged with reducing Medicare spending to a "target level" by 2015. Its recommendations take effect automatically unless overruled by a congressional supermajority.

By law, the board cannot "raise revenues or Medicare beneficiary premiums ... deductibles, coinsurance, and copayments, or otherwise restrict benefits or modify eligibility criteria." This means that the board would likely have to cut reimbursements to health providers who already receive roughly 80% of what private insurers pay for the same procedures for non-Medicare patients. This will discourage doctors from taking on Medicare patients.
Feb. 12, 2014 -- "Behind the White House's ObamaCare Dodges"
Then there's Medicare, whose Hospital Insurance Trust Fund will go bankrupt in 2026. For five years, Mr. Obama has failed to offer a plan to restore Medicare's fiscal health as he is required by the law establishing Medicare Part D. When Medicare goes belly-up, he will be out of office.
BEFORE YOU GO
PHOTO GALLERY
Obamacare's Biggest Losers