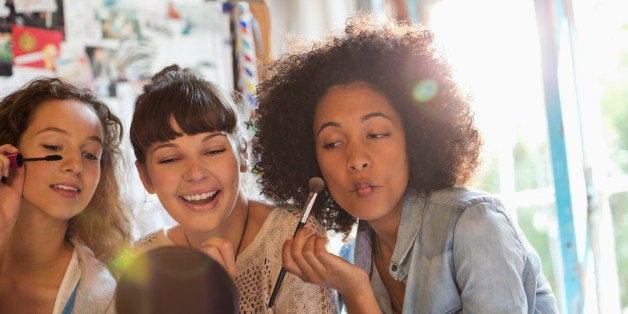 It's only been about a day since the Daylight Savings Time change, and we feel like we're a little jet-lagged. Yes, we only went up an hour, but we're pretty sure our whole week is going to be out of whack. So, don't get us started on our morning routine struggles.
If you're in need of some help, we've rounded up some time-saving tips that will help you get your butt out of the house quick -- even if you just woke up, like, 20 minutes ago. While some of these require some prep (it won't make a huge dent in your lazy Sunday), take a deep breath, clear your head and get to work! But seriously, you need to get to work, class or wherever it is you need to be.
1. Invest (or convert your own) multipurpose products.
Face chubbies and crayons are great for when you need to save some time. You can use them on your lips, cheeks and eyes, and depending on the force in which you apply, you can achieve different shades so you don't look too monochromatic.
On the same note, buy 2-in-1 products like e.l.f.'s Eyebrow Gel and Mascara combo, so you don't have to dig around looking for separate products. Tinted moisturizers are awesome for when you don't have time to spend applying your foundation.
2. Reuse old beauty subscription boxes for storage and organization.
Have a couple of boxes racked up from months and months of Birchbox subscriptions? Use them to organize your goods according to product -- you'll have your lipstick box, eyeshadow box, etc. That way, you don't have to rummage around for that one lip gloss you just NEED to wear today.
P.S. Any small-sized box would do for this little DIY project.
3. When you plan your outfit the night before, plan your makeup, too.
This might sound a bit ridiculous, but even if you just say, "Hey, some mascara and an orange lip would look perfect with this dress," then you waste less time figuring out what to put on your face the next morning.
4. Line your products up according to use.
Depending on where and how you store your products, put your everyday go-tos where you can always see them. Convenient enough, right?
5. Keep your basics with you.
If you carry a makeup bag, make sure it has all the basics. If you're running out the door, you can definitely dress up your face in the office bathroom later.
6. Dry shampoo.
Quick and clean, that's all you need to know.
7. Use concealer in place of eyeshadow.
If you're not into intense eyeshadow hues but still want to look a little made-up, try putting concealer on your top and bottom lids. You'll have a nice natural finish with one knockout product. Just make sure to blend!
8. Blow-dry the front of your hair, and nothing else.
Especially for people with wavy hair, you might only "need" to blow-dry the front, or none of it at all. But, if it's still freezing cold in your area, we understand if you have to do your whole head.
9. And for our curly-haired friends, get a good leave-in conditioner.
Find one that works with your hair type, because it can transform your bedhead and/or wash-and-go's.
BEFORE YOU GO
PHOTO GALLERY
50 Beauty Tips