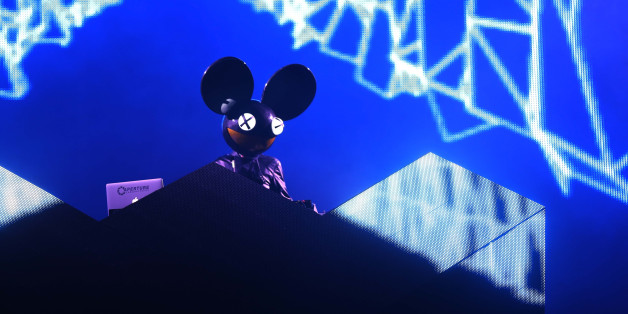 Ever hang out with your trendy friends and realize you have no idea what the hell they're taking about? (Skrillex? Dubstep? Deadmau5? Are y'all speaking English?) If so, we're here to help. In honor of the upcoming Ultra Music Festival in Miami, we give you a crash course in EDM culture, because admit it, you probably need one:
EDM: "Electronic dance music" is an umbrella term that puts different artists in the same vein, which probably adds to the confusion surrounding the genre. Think about it: "Wake Me Up" by Avicii or the Calvin Harris beats in Rihanna's "We Found Love" sound very different from less commercial tracks such as Justice's "Civilization" or Bassnectar's "Bass Head." This vague generalization is why some DJs dislike the term, for example:
"@nroracle: @CookieMonstaDUB but what if I dance to dubstep?"

But you don't NEED to call it EDM. 'EDM' is a generalization. Call it Dubstep

— Cookie Monsta (@CookieMonstaDUB) January 16, 2013
The term 'EDM' conjures up images of Glam Rock nonsense to me, not in a good way. I love my peers but I want nothing to do with it.

— Feed Me (@feedme) February 27, 2013
In short, "EDM" is a lazy but easy way to generalize a wide variety of dance music.
Dubstep: an EDM genre characterized by heavy sub-bass lines, or low beats that you can feel through the sub-woofers more than you can really hear them. For some Americans, dubstep= Skrillex. Skrillex's aggressive sound, coined "brostep" by some, is the popular dubstep we know in the States, but it's actually much different from the genre's British origins. Head over to Spin Magazine for more on dubstep's Western expansion.
House: House music has been around since the 1980s and has more sub-genres than we can keep up with, making it extremely hard to define. At the very heart of house music is an up-tempo rhythm, a kick drum and usually some deep bass. In short, anything that makes you go untz-untz-untz probably has house roots.
Deep house, for example, has a super relaxed, lounge-y sound with sexy, smooth vocals (if any).
Trance music is characterized by a quick tempo of 128-150 beats per minute (BPM) and repeated melodic structures, hence its name. Popular trance artists today include the likes of Dash Berlin, Armin van Buuren, and DJ Tiesto.
Progressive house tends to have long buildups and a climax somewhere in the middle of the song.
In recent years, house music has seen major mainstream success with songs like Zedd's "Clarity," and "Levels" by Avicii, just to name a few.
PLUR: "Peace, love, unity, respect" is the raver philosophy.
Kandi: homemade, neon-beaded jewelry that will bring you back to summer camp days. Ravers often exchange Kandi at raves, as it's a great conversation starter and because why the hell not? While exchanging Kandi, some form peace signs and make hearts with their hands and then exchange bracelets, as part of the PLUR mantra.
So there you have it, students. Now when you're blasting Skrillex and somebody claims it's just noise leaking from a computer, you can be all, "No man, it's brostep."
Who's the trendy friend now?
BEFORE YOU GO
PHOTO GALLERY
Ultra Music Festival 2013: Weekend 1