Chris Holcomb, 25, served on the front lines in Afghanistan as a Marine.
For the residents of Taylor, Mich., where Holcomb grew up and returned after his tour of duty, just saying "thank you" wasn't enough. Instead, they found an extraordinary way to express their gratitude to Holcomb, his wife, Darcy, and their 3-year-old daughter Veyda.
Last week, there wasn't a dry eye in a newly rehabilitated house on Polk Street, as partners from the Taylor Veterans Home Project came together to surprise Holcomb, who sustained a serious injury in Afghanistan, and his family with the keys to their new home.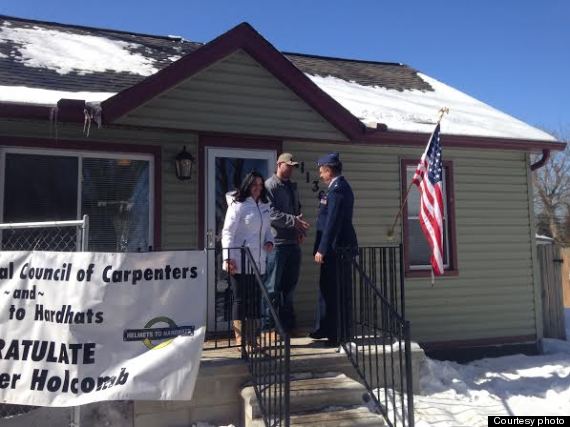 The Holcomb family stand outside their new home in Taylor, Michigan.
For weeks, members of the Michigan Regional Council of Carpenters and Millwrights braved subzero temperatures to refurbish the house, using funds from the federal Neighborhood Stabilization Program. The city of Taylor contributed crucial improvements, including a new foundation for the house, heating and cooling, an on-demand hot water system and a new roof, while the Home Depot Foundation and a local Home Depot store donated materials to renovate the structure.
Like many wounded veterans, Holcomb has struggled to find a good job since he returned home. In addition to his new home, he was presented with a letter of intent to hire from Barton Malow, a construction company, through a national program called Helmets to Hardhats. Holcomb will now begin a paid apprenticeship to train as a skilled carpenter.
His future surely seems brighter, and so does Veyda's. She received a full scholarship from Schoolcraft College to use when she graduates high school.
When it was Holcomb's turn to address the small crowd outside his new home, he thanked his hometown for the much-needed help.
"It really feels good to have the community you grew up from since a little kid, to have the community reach out like this and help your family like this," Holcomb said to WYCD. "It really is truly amazing and I truly am blessed."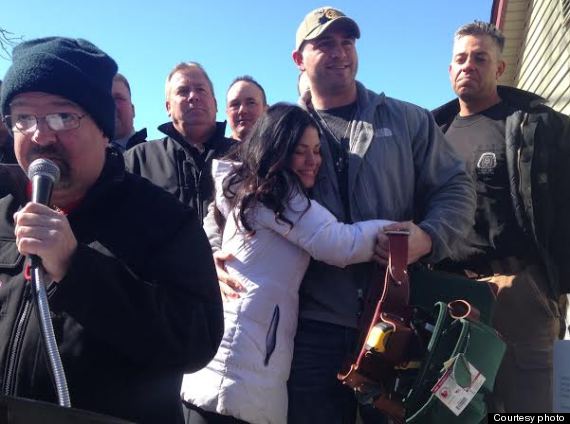 Darcy hugs her husband, Marine veteran Chris Holcomb, after receiving a house and other surprises from partners of the Taylor Veterans Home Project.
h/t WYCD