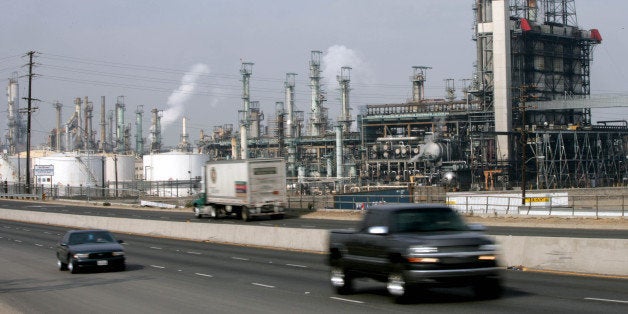 March 10 (Reuters) - Two workers were sprayed by sulfuric acid at Tesoro Corp's Golden Eagle refinery in Martinez, California, on Monday, the second such incident in less than a month, according to the Contra Costa County Hazardous Materials Program.
A Tesoro spokeswoman did not identify the chemical to which the two contract workers were exposed while performing maintenance on a unit at the Martinez refinery.
"The contractors were doing maintenance, with full protective safety equipment worn," company spokeswoman Tina Barbee said in a statement. "They were decontaminated in a shower and have been transported to a local medical facility."
One of the workers has been released and the second remains in a hospital under observation, Lacey Friedman, a Contra Costa County hazardous materials specialist, said in a telephone interview.
On Feb. 12, an alkylation unit involved in gasoline production was shut at the 166,000-barrel-per-day Martinez refinery after a sulfuric acid release injured two workers.
On Monday, Tesoro told the Contra Costa County Hazardous Materials Program that the two workers were sprayed with the acid while working on the alkylation unit.
"We believe it was the same unit, but a different process area from the sampling area," Friedman said.
In the Feb. 12 accident, two workers were testing material produced by the alkylation unit in a sampling area. The alkylation unit uses sulfuric acid to convert refining byproducts into octane-boosting gasoline blending components. The workers were sprayed with acid. They were treated at a hospital, then sent home to recover.
That accident triggered a dispute between the U.S. Chemical Safety Board and Tesoro in which the company blocked board investigators from the refinery.
In a letter to Tesoro about the dispute, board members wrote that Martinez refinery workers told the board that being sprayed with acid was a common occurrence and that they lacked face shields and protective clothing for tests on the alkylation unit.
On Monday, a board spokeswoman said the board had seen reports about the latest accident, but had no further information.
Tesoro's Barbee said Monday's accident "is believed to be unrelated to the chemical release that occurred on Feb. 12."
Tesoro has said that after the earlier accident the refinery followed industry standards for safety and had reviewed safety procedures with employees, including the use of protective equipment.
The February accident is being investigated by the California Division of Occupational Safety and Health. An agency representative was not immediately available to discuss the probe on Monday.
The Chemical Safety Board is completing a report on a deadly 2010 explosion at Tesoro's refinery in Anacortes, Washington. Seven refinery workers died of injuries sustained in the accident.
Under federal law, the board works to determine the causes of U.S. chemical plant accidents. It has no regulatory or law enforcement authority. (Reporting by Koustav Samanta in Bangalore and Erwin Seba in Houston; Editing by Steve Orlofsky, Jonathan Oatis and Andre Grenon)
BEFORE YOU GO
PHOTO GALLERY
EPA 2011 Greenhouse Gas Data