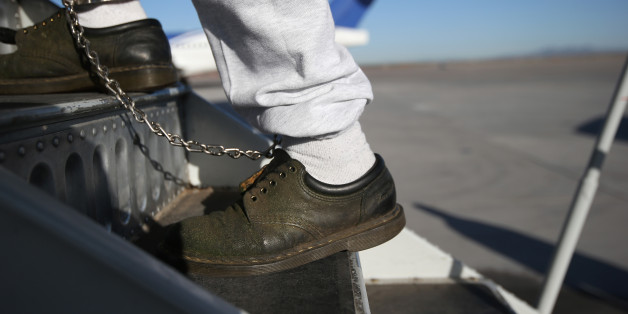 A bill filed Monday would limit Arizona's cooperation with federal immigration detainers, in an attempt to reduce deportations.
Conceived as a rebuke to Secure Communities, a federal program in which local law enforcement share fingerprint data with Immigration and Customs Enforcement in order to identify deportable immigrants, the bill would only allow Arizona to hold undocumented immigrants for federal authorities if they had been convicted of a serious crime and the federal government pays back the cost of detaining them.
"This war of attrition on immigrants has made us all less safe," said Arizona State Rep. Juan Mendez, a Democrat who is sponsoring the bill, according to KTAR.
Opponents of Secure Communities, who refer to the program as "S-Comm," say it undermines trust between immigrant communities and the police, and that it routinely ensnares noncriminals or people convicted of minor crimes into deportation proceedings.
"Arizona has been known as the state of hate, but with a process of trust and reconciliation we will be a place of hope again," Carlos Garcia, an organizer with Puente Arizona, said in a press statement. "Immigrants here are not just suffering in silence. We're providing solutions to the state's problems."
Of the 368,644 people deported last fiscal year, 82 percent had been convicted of a crime at some point, according to ICE. That figure includes far more misdemeanor offenders than hardened criminals, however. Some 74,159 people deported in 2013 -- 20 percent of the total -- were convicted of Level One offenses. The category encompasses both violent and nonviolent felonies, as well as the crime of illegally reentering the country after a prior conviction for illegal entry. The largest group of criminals deported were the 95,453 Level Three offenders -- those convicted of misdemeanors, including the crime of illegal entry that is routinely prosecuted along the border under a program called "Operation Streamline."
The proposed measure would mark a major shift in direction for a state legislature known for passing S.B. 1070, a pioneering effort to use state resources to crack down on illegal immigration. But the bill is unlikely to pass Arizona's Republican-dominated legislature, nor find favor with conservative Gov. Jan Brewer, who supports strict immigration enforcement.
Mendez's bill is modeled on the Trust Act passed by the California legislature last year.
President Barack Obama, who supports immigration reform with a pathway to citizenship, has come under increasing fire in recent weeks over his administration's record-setting pace of deportations.
UPDATE: This post was updated at 3:20 p.m. to clarify the number of criminals deported by ICE.
BEFORE YOU GO
PHOTO GALLERY
6 Misconceptions About The Border