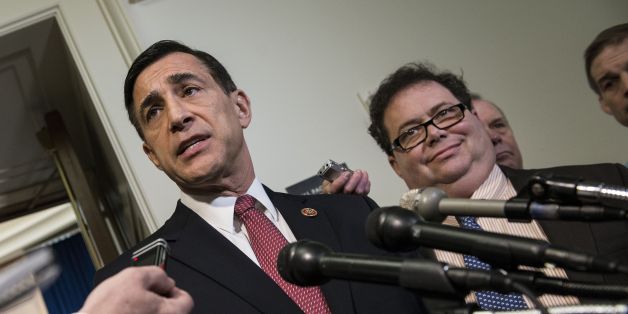 WASHINGTON -- Rumors were rampant on Tuesday morning that Rep. Darrell Issa (R-Calif.) was threatening to resign from Congress unless House GOP leadership granted him a waiver to continue serving as chair of the House Committee on Oversight and Government Reform.
But no sooner had reporters begun asking the obvious suspects ("You're the fourth call on this already," one Republican leadership aide told The Huffington Post) did the gossip get shot down.
"Chairman Issa is fully focused on his current job at the Oversight Committee and running for reelection," Issa spokesman Frederick Hill said. The aforementioned leadership aide added his own rebuttal: "There is no truth to it."
Issa has not hidden the fact that he would like House Speaker John Boehner (R-Ohio) to waive the Republican Party's limit on serving atop a committee for two consecutive sessions. In an interview with POLITICO, Issa argued that it would make sense for him to continue through the end of the Obama administration, in order to ensure continuity with the investigations he started upon taking the gavel in 2011.
The House leadership's hesitancy in granting Issa that waiver is driven in part by the presence of other lawmakers eager to run the committee. But it's also partly because if they granted an exemption to Issa, they would have a tough time denying it to chairs of other committees.
The decision ultimately will be made by the Republican Steering and Policy Committee after the upcoming election is over (you can't promise a chairmanship to a lawmaker who loses his or her seat).

BEFORE YOU GO
PHOTO GALLERY
Politicians Who Look Like Disney Characters