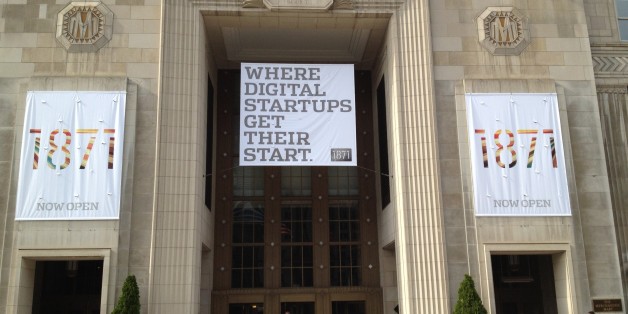 CHICAGO -- After several shamefully sexist missteps by Google and Motorola, the two tech giants are making strides in the right direction as co-funders of a new dedicated incubator for female entrepreneurs.
1871, a digital startup center in Chicago, announced the launch of the FEMtech incubator on Tuesday.
Along with Google and Motorola, FEMtech is also funded by the Lefkofsky Family Foundation (headed by Liz Lefkofsky, the wife of Groupon CEO Eric Lefkofsky). Though specific figures have yet to be released, Crain's Chicago Business reports FEMtech will launch with $500,000 to $1 million in support.
On its website, 1871 describes FEMtech as "a cutting-edge incubator program" that will provide benefits like mentorship, connections to the city's top venture capitalists, access to partnerships with local universities and a "family-friendly" experience that promotes flexibility and work-life balance.
The incubator, which starts accepting applicants in June ahead of the fall 2014 opening, will host between 10 and 15 women-owned technology businesses and will draw from talent not just in Chicago but around the globe, according to an 1871 release.
"Female entrepreneurs are a vital part of job creation in Illinois and by helping them, 1871 will improve its already impressive economic performance," Illinois Gov. Pat Quinn said in a statement.
Expanding opportunities for women in the tech world has been a growing priority as the industry draws criticism for its gender (and racial) imbalances. (1871's FEMtech is part of the Google for Entrepreneurs' #40Forward initiative aimed at boosting the participation of women in technology.)
Though the industry has long been disproportionately male, the tech sector's gender gap is especially pronounced when it comes to entrepreneurs. According to a 2013 study by the Kauffman Foundation, women start only about 3 percent of tech companies, the San Francisco Chronicle reports.
Even as women like Yahoo CEO Marissa Mayer and Facebook COO Sheryl Sandberg take leading roles in the business, sexism -- both subtle and overt -- has remained a persistent problem industry-wide.
Motorola's past sins include a disastrous campaign for the popular Moto X phone, rife with "dick jokes" and played-out stereotypes of women.
Aside from the more passive (but still shocking) sexism of Google search's auto-complete, the company has caught flack for honorees of its Google Doodles skewing overwhelmingly male.
BEFORE YOU GO
PHOTO GALLERY
Auto-Complete Sexism