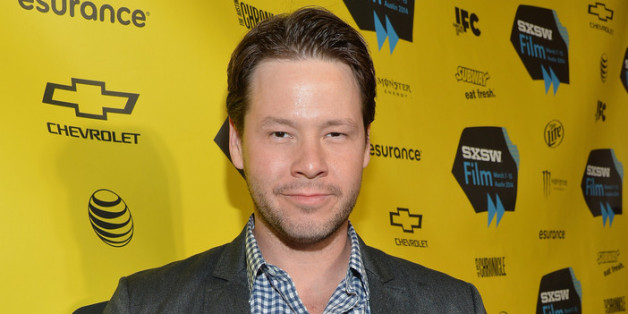 If Rose Byrne is the most valuable player in Nicholas Stoller's "Neighbors," then maybe Ike Barinholtz should earn sixth-man honors. Best known for his role as Morgan on "The Mindy Project," Barinholtz plays Jimmy in "Neighbors," a recently divorced friend of Mac and Kelly (Seth Rogen and Byrne) who gets roped into the couple's ridiculous scheme to bring down the fraternity that moves in next door.
"Brendan O'Brien and Andrew Cohen, who wrote the movie, created a character who is, right away, a dickhead," Barinholtz told HuffPost Entertainment following a work-in-progress screening of "Neighbors" at the South by Southwest Film Festival in Austin on March 8. "Then, Nick Stoller made a really funny choice when I showed up to the wardrobe fitting: all my clothes had stains on them. There were cargo pants with holes. [Producers] Evan Goldberg and Seth Rogen really leaned into me being a disgusting scumbag. They got me to say all kinds of horrible, horrible things."
Among the horrible things that Barinholtz says as Jimmy are two jokes that could have been potential land mines: one where the punchline is the word rape, and another where Barinholtz says "n---a" during an impersonation his character does of President Barack Obama. That Barinholtz manages to navigate those tricky waters, landing big laughs in the process, is a credit to his comic dexterity.
"I was really worried, because either Nick or Evan [Goldberg, the producer] said to me, 'You're so funny in this movie. When you say the n-word twice and your rape joke. So funny.' I was like, 'I'm going to go to jail,'" Barinholtz said. "I think it's kind of context. I actually hate rape jokes. They aren't funny and they're terrible, but in the film, my character is such an idiot. They're brainstorming on how to kick this fraternity out of the school, and he's so excited that he has this idea which might work that he can literally only jump up and say 'rape.'
"The same thing with the n-word," Barinholtz continued. "Anyone who says the n-word is a fucking asshole 99.9 percent of the time. My character, again, is so stupid and in the moment, that when he's pretending to be President Obama on the phone, he's so excited that he can't help but say it. You have to make sure it's a really special circumstance where you're playing a truly reprehensible and stupid character."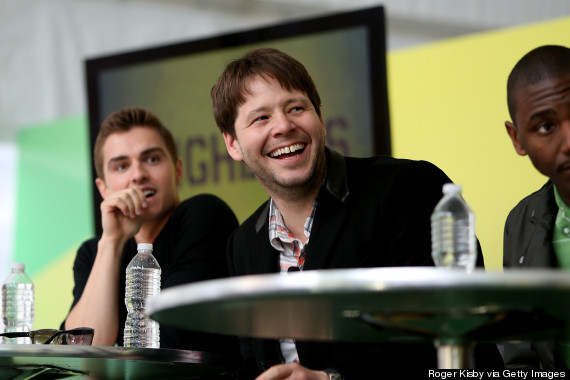 Ike Barinholtz at SXSW with "Neighbors" co-stars Dave Franco and Jerrod Carmichael
Barinholtz's Obama impression, like the film in which it appears, is an unexpected delight that transcends expectations. The 37-year-old grew up in Chicago and played basketball with Obama at a neighborhood gym, back when the current president was a local state legislator.
"When he ran for senate in Illinois, I loved his flat, Midwestern inflection. There's a little bit of a pomp to it, too." Barinholtz said, before switching into his impeccable Obama parody: "Guys, where's the hot snack? We have pastrami today, and I love it. It's Sasha and Malia's favorite. But let me be clear. I want it on rye bread."
Barniholtz also does a killer Mark Wahlberg impersonation in "Neighbors," though that caricature wasn't brought upon by a chance meeting. "Mark Wahlberg, when I was in high school, people were like, 'You look like Marky Mark!'" Barinholtz recalled of why he started doing the impression. "Then as I got older, they were like, 'You look like Donnie Wahlberg.' Now they're like, 'You look like Donnie Wahlberg's cousin from Massachusetts. Chuck Wahlberg. He's a fucking contractor.'"
Barniholtz didn't rise to fame overnight -- he was a cast member on "MADtv" for five seasons and also appeared on "Eastbound & Down" before his supporting role on "The Mindy Project" -- yet "Neighbors" could put him on another level of visibility and fame. It's something Barinholtz has already begun to notice, especially within one particular demographic.
"At first it was like weird old men in sailor's hats and wheelchairs, being like, 'I love 'MadTV.' With 'Mindy' you get a young, female fan base. Now, with this movie, just being in Austin in the last 24 hours, young dudes are coming up to me," Barinholtz said, before affecting the accent of an college bro: "'I fucking love that movie, man! It's fucking great!"
"Neighbors" is out in theaters on May 9.
BEFORE YOU GO
PHOTO GALLERY
"Neighbors" At SXSW