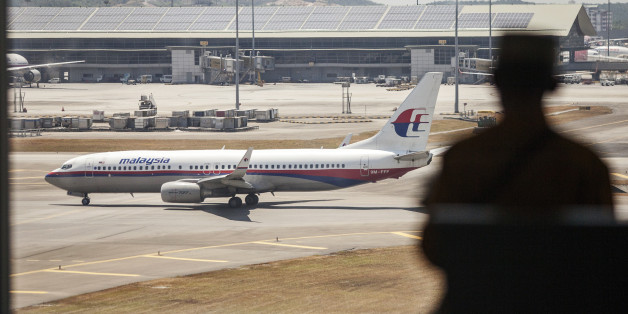 * Air force chief denies saying plane tracked to Malacca Strait
* Source had said radar suggested plane turned back and flew some distance
* Hijack, sabotage, mechanical failure also being investigated
* Still no sign of missing plane, search in fifth day
* 227 passengers and 12 crew aboard lost flight
By Stuart Grudgings
KUALA LUMPUR, March 12 (Reuters) - Malaysia's air force chief has denied saying military radar tracked a missing Malaysia Airlines jetliner over the Strait of Malacca, adding to the mystery surrounding the fate of flight MH370, which vanished on Saturday with 239 people aboard.
A massive air and sea search now in its fifth day has failed to find any trace of the Boeing 777, and the last 24 hours have seen conflicting statements and reports over what may have happened after it lost contact with air traffic controllers.
Malaysia's Berita Harian newspaper on Tuesday quoted Air Force chief Rodzali Daud as saying the plane was last detected by military radar at the northern end of the Strait of Malacca at 2.40 a.m. on Saturday, hundreds of kilometres off course.
"I wish to state that I did not make any such statements," Rodzali said in a statement on Wednesday. The air force chief said he had merely repeated that military radar tracking suggested the plane might have turned back.
A senior military officer who had been briefed on the investigation told Reuters on Tuesday that the aircraft had made a detour to the west after communications with civilian authorities ended.
"It changed course after Kota Bharu and took a lower altitude. It made it into the Malacca Strait," the officer said.
Malaysian authorities have said previously that flight MH370 disappeared around 1.30 a.m., roughly midway between Malaysia's east coast town of Kota Bharu and southern Vietnam, about an hour after it took off from Kuala Lumpur bound for Beijing.
The Strait of Malacca, one of the world's busiest shipping channels, runs along Malaysia's west coast, while Kota Bharu is on the northeast coast.
After the comments from the officer, a non-military source familiar with the investigations said the reported detour was one of several theories and was being checked.
If the plane had made such a detour it would undermine the theory that it suffered a sudden, catastrophic mechanical failure, as it would mean it flew at least 500 km (350 miles) after its last contact with air traffic control.
A spokesman for the Malaysian prime minister's office said on Wednesday he had not been informed by the military of evidence showing the plane had recrossed the Malay Peninsula to reach the Malacca Strait.
"The people I checked with were not aware of that," spokesman Tengku Sariffuddin Tengku Ahmad told Reuters.
HUGE INTERNATIONAL SEARCH
A huge international search operation has been mostly focused on the shallow waters of the Gulf of Thailand off Malaysia's east coast, although the Strait of Malacca has been included since Sunday.
Navy ships, military aircraft, helicopters, coast guard and civilian vessels from 10 nations have criss-crossed the seas off both coasts of Malaysia without success.
In the absence of any concrete evidence to explain the plane's disappearance, authorities have not ruled out anything. Police have said they were investigating whether any passengers or crew on the plane had personal or psychological problems that might shed light on the mystery, along with the possibility of a hijacking, sabotage or mechanical failure.
"Maybe somebody on the flight has bought a huge sum of insurance, who wants family to gain from it or somebody who has owed somebody so much money, you know, we are looking at all possibilities," Malaysian police chief Khalid Abu Bakar said at a news conference on Tuesday.
The airline said it was taking seriously a report by a South African woman who said the co-pilot of the missing plane had invited her and a female travelling companion to sit in the cockpit during a flight two years ago, in an apparent breach of security.
"Malaysia Airlines has become aware of the allegations being made against First Officer Fariq Ab Hamid which we take very seriously. We are shocked by these allegations. We have not been able to confirm the validity of the pictures and videos of the alleged incident," the airline said in a statement.
The woman, Jonti Roos, said in an interview with Australia's Channel Nine TV that she and her friend were invited to fly in the cockpit by Fariq and the pilot between Phuket, Thailand, and Kuala Lumpur in December 2011. The TV channel showed pictures of the four apparently in a plane's cockpit.
The Boeing 777 has one of the best safety records of any commercial aircraft in service. Its only previous fatal crash came on July 6 last year when Asiana Airlines Flight 214 struck a seawall on landing in San Francisco, killing three people.
U.S. planemaker Boeing has declined to comment beyond a brief statement saying it was monitoring the situation.
BEFORE YOU GO
03/25/2014 7:27 PM EDT
'Partial Ping' Investigated As Possible Clue
The Wall Street Journal reports on a potential clue in the plane investigation:
A "partial ping" received eight minutes after a final complete transmission between Malaysia Airlines Flight 370 and an orbiting satellite began on the missing jet, in the latest clue that could help investigators unravel what happened to the jet before it stopped flying.

The final partial transmission from the missing Boeing Co. 777-200ER, which disappeared from civilian radar on March 8, "originates with the aircraft for reasons not understood," said Chris McLaughlin, senior vice president of Inmarsat PLC, which operates the satellite.
03/25/2014 5:10 PM EDT
Relative Petitions U.S. Court For Malaysia Airlines, Boeing Records
Chicago-based law firm Ribbeck Law Chtd., representing the father of a passenger on MH370, filed a request in Illinois state court on Tuesday seeking Malaysia Airlines and Boeing's records on the missing plane, Bloomberg reports.
Januari Siregar, father of passenger Firman Chandra Siregar, has requested 26 types of data, including information about the maintenance of the jet, the crew's training, and any cargo on board, according to the report.
Read the full story here.
03/25/2014 2:52 PM EDT
U.S. Navy 'Tow Fish' Microphone Will Listen For MH370 Pings
Wired explains that U.S. Navy underwater microphones may be essential to the MH370 search now that authorities are looking in an area of the southern Indian Ocean in places as deep as 23,000 feet.
From Wired:
The 70-pound tow fish, which is formally known in true Pentagon style as Towed Pinger Locator 25, is a hydrodynamic microphone designed specifically to listen for the acoustic signal of the data and cockpit voice recorders carried aboard all commercial and military aircraft. It can track the devices to depths of 20,000 feet.
The U.S. has deployed a pair of tow fish to a Royal Australian Navy Rescue Ship, which will drag them through the search area looking for pings from the missing plane's flight data recorder, according to Wired.
Read the full report here.
03/25/2014 11:52 AM EDT
WaPo: China Wary Relatives' Anger Will Rebound
The Washington Post reports that Chinese officials are concerned that relatives grieving the disappearance of flight MH370 could redirect their anger from Malaysia onto China.
From The Washington Post:
At a meeting of provincial officials last week, according to people who were in the room, they discussed preventing a larger movement from forming out of the passengers' families.
While the families' outrage and frustration is genuinely targeted at Malaysian authorities, China is taking care to make sure it stays that way, the Post notes.
At a rare-sanctioned protest at the Malaysian embassy in Beijing on Tuesday, plainclothes men who did not appear to be family members came to rally the protesters, according to the Post:
In the meantime, in one bus, a man with a loudspeaker prepared the relatives. "We don't have any contradictions with the Chinese government, right?" he yelled into the loudspeaker, waiting for them to yell back "right!" "We don't have any contradictions with the media, right?"
Read the full story here.
03/25/2014 9:22 AM EDT
PHOTO: MH370 Relatives Protest At Malaysia Embassy In Beijing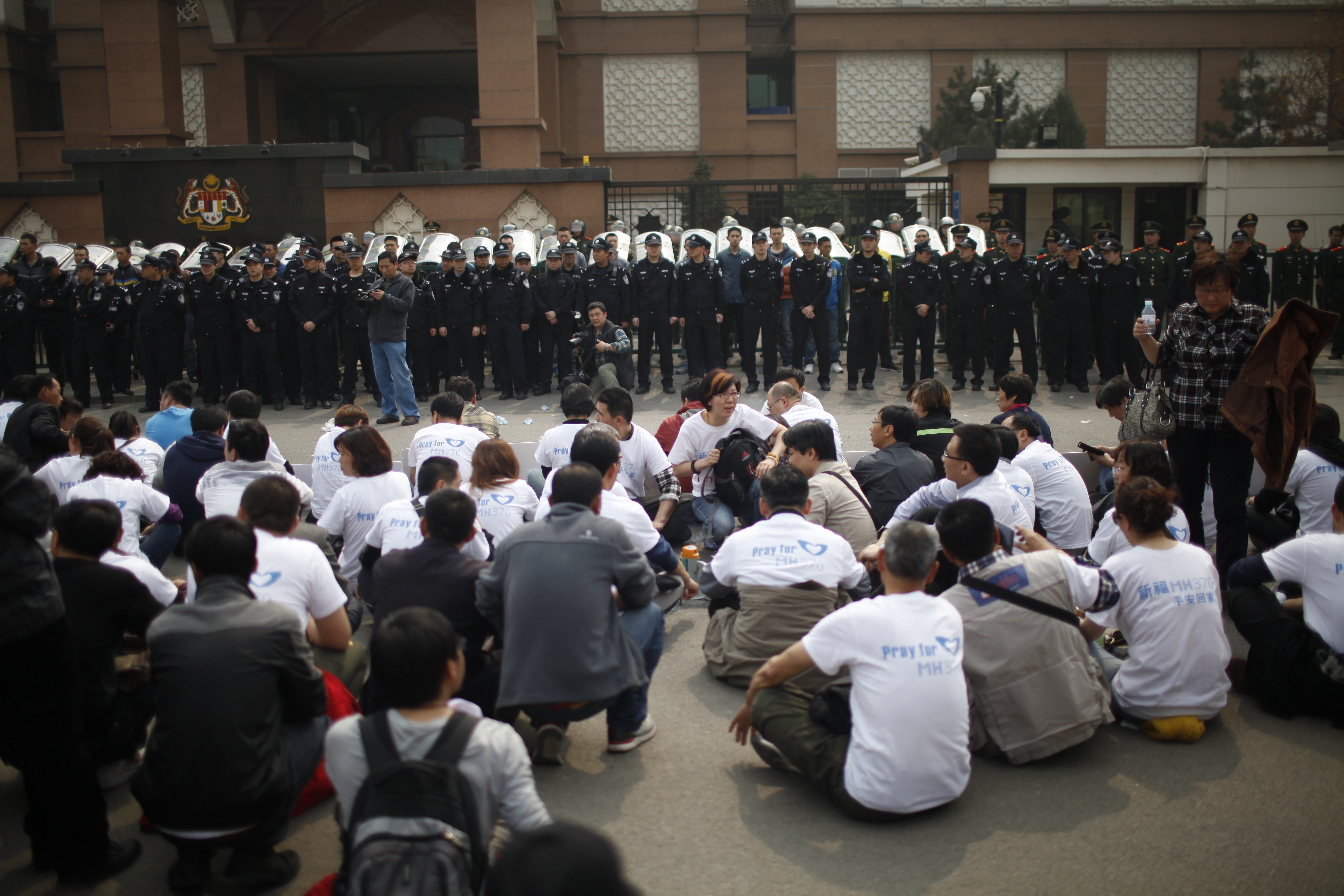 Relatives of passengers on missing Malaysia Airlines flight MH370 protest outside the Malaysian embassy in Beijing on March 25, 2014. (AFP/AFP/Getty Images)
03/25/2014 8:22 AM EDT
What Malaysia Airlines Is Doing For Relatives
From the Associated Press:
Malaysia Airlines says it is providing comprehensive support for the families of the 239 people aboard Flight 370.

FOOD AND LODGING: Hotel, transportation, meals and other expenses have been provided for up to five family members per passenger since the flight disappeared March 8, and the airline intends to continue the support as long as families require it.

FINANCIAL HELP: The airline provided US$5,000 per passenger to the next of kin initially and will offer more payments as the search for the jetliner continues.

ROUND-THE-CLOCK CARE: It has assigned more than 700 caregivers — including two per family — to offer support and counseling to families on a 24-hour basis.
03/25/2014 4:04 AM EDT
The Missing Passengers And Crew Of Flight #370
When Malaysia Airlines Flight #370 disappeared on March 8, it carried 227 passengers and 12 crew members. The youngest passenger was 2-year-old Yan Zhang, the oldest was 79-year-old Baotang Lou.
Click here to view the entire passenger/crew manifest.
03/25/2014 3:25 AM EDT
Malaysia Airlines Releases New Statement About Missing Plane
By: Tan Sri Md Nor Md Yusof, Chairman of Malaysia Airlines

As you will be aware, last night the Prime Minister of Malaysia, Najjib Razak, announced new evidence regarding the disappearance of MH370 on 8th March.

Based on this evidence, the Prime Minister's message was that we must accept the painful reality that the aircraft is now lost and that none of the passengers or crew on board survived.

This is a sad and tragic day for all of us at Malaysia Airlines. While not entirely unexpected after an intensive multi-national search across a 2.24 million square mile area, this news is clearly devastating for the families of those on board. They have waited for over two weeks for even the smallest hope of positive news about their loved ones.

This has been an unprecedented event requiring an unprecedented response. The investigation still underway may yet prove to be even longer and more complex than it has been since March 8th. But we will continue to support the families – as we have done throughout. And to support the authorities as the search for definitive answers continues. I will now ask our Group Chief Executive¸ Ahmad Jauhari Yahya, to provide you will with fuller details of our support for the families.

By: Ahmad Jauhari Yahya, Group Chief Executive Officer, Malaysia Airlines

I stand before you today not only as the Group Chief Executive Officer of Malaysia Airlines, but also as a parent, as a brother, as a son. My heart breaks to think of the unimaginable pain suffered by all the families. There are no words which can ease that pain. Everyone in the Malaysia Airlines family is praying for the 239 souls on MH370 and for their loved ones on this dark day. We extend our prayers and sincere condolences.

We all feel enormous sorrow and pain. Sorrow that all those who boarded Flight MH370 on Saturday 8th March, will not see their families again. And that those families will now have to live on without those they love. It must be remembered too that 13 of our own colleagues and fellow Malaysians were also on board.

And let me be very clear on the events of yesterday evening. Our sole and only motivation last night was to ensure that in the incredibly short amount of time available to us, the families heard the tragic news before the world did. Wherever humanly possible, we did so in person with the families or by telephone, using SMS only as an additional means of ensuring fully that the nearly 1,000 family members heard the news from us and not from the media.

Ever since the disappearance of Flight MH370 Malaysia Airlines' focus has been to comfort and support the families of those involved and support the multi-national search effort. We will continue to do this, while we also continue to support the work of the investigating authorities in the Southern Indian Ocean.

Like everyone else, we are waiting for news from those authorities. We know that while there have been an increasing number of apparent leads, definitive identification of any piece of debris is still missing. It is impossible to predict how long this will take. But after 17 days, the announcement made last night and shared with the families is the reality which we must now accept. When Malaysia Airlines receives approval from the investigating authorities, arrangements will be made to bring the families to the recovery areas if they so wish. Until that time, we will continue to support the ongoing investigation. And may I express my thanks to the Government and all of those involved in this truly global search effort.

In the meantime, Malaysia Airlines' overwhelming focus will be the same as it has been from the outset – to provide the families with a comprehensive support programme. Through a network of over 700 dedicated caregivers, the loved ones of those on board have been provided with two dedicated caregivers for each family, providing care, support and counsel. We are now supporting over 900 people under this programme and in the last 72 hours, we have trained an additional 40 caregivers to ensure the families have access to round-the-clock support.

In addition, hotel accommodation for up to five family members per passenger, transportation, meals and others expenses have been provided since 8th March and that will continue.

Malaysia Airlines has already provided initial financial assistance of USD 5,000 per passenger to the next of kin. We recognize that financial support is not the only consideration. But the prolonged search is naturally placing financial strain on the relatives. We are therefore preparing to offer additional payments as the search continues.

This unprecedented event in aviation history has made the past 18 days the greatest challenge to face our entire team at Malaysia Airlines. I have been humbled by the hard work, dedication, heartfelt messages of concern and offers of support from our remarkable team. We do not know why, and we do not know how this terrible tragedy happened. But as the Malaysia Airlines family, we are all praying for the passengers and crew of Flight MH370.
For past statements, click here.
03/25/2014 2:34 AM EDT
Malaysia Airlines CEO Has Not Decided On Resignation
Malaysia Airlines Chief Executive Ahmad Jauhari Yahya was asked at a press conference whether he would resign following the disappearance of Flight #370. Yahya said it was a personal decision, and one he would make at a later date, Reuters reported.
Click here for more.
03/25/2014 12:48 AM EDT
Carrier's Support Effort Has Large Reach
Malaysia Airlines CEO says the airline is 'now supporting' 900 relatives of those on board flight 370.

— Keir Simmons (@KeirSimmons) 5 years ago