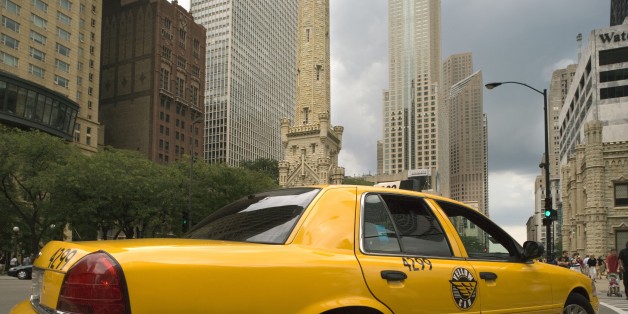 CHICAGO -- As cabbies and other chauffeur drivers around the nation push back against ride-sharing companies like Uber, Lyft and Sidecar encroaching on their territory, the fight has taken a bizarre turn in the Windy City.
The Chicago Dispatcher, a monthly free newspaper for the taxi industry, is under fire for a recent (satirical) article threatening to out five "secretly gay" Chicago aldermen unless the city cracks down on ride-sharing companies by month's end.
On Tuesday, the RedEye first noted the article, which contains a list of 10 demands.
George Lutfallah, the article's author and Chicago Dispatcher's publisher, asks the city to "actively enforce the existing ordinance that governs taxicabs," while also demanding the Willis Tower's name be changed "back to the Sears Tower," among other demands.
Lutfallah took a swipe at female rideshare drivers as well, writing "the last place for a woman is behind the wheel. If a woman needs a ride somewhere, she will only feel safe if the driver is a man."
While the Chicago Dispatcher does publish satire, Lutfallah's article was not categorized as such, and an update from the Dispatcher's Twitter account even insisted to an unimpressed reader the article wasn't meant to be humorous.
Equality Illinois certainly didn't find the article funny. The LGBT advocacy group condemned the article in a statement Tuesday:
"However this article was intended, it is no joking matter. We call on the publication to immediately retract its extremely offensive article and apologize to the city's LGBT community, women drivers and customers, the City Council and the public at large. Such comments strike at the core of communities that are still fighting for full recognition and equality."
The Illinois Transportation Trade Association, which represents cab companies and taxi medallion holders, took a similar position Tuesday.
"The ITTA and our affiliated taxi companies unequivocally condemn the piece that ran in today's Chicago Dispatcher and the hateful message it sends. This misguided attempt at parody has no place in this discussion and demonstrates an extreme lack of judgment or sensitivity," ITTA spokeswoman Angela Benander told CBS Chicago in an email.
Though the Chicago Dispatcher has not responded to criticism of Lutfallah's article,
the publication is rumored to be folding soon. Calls and emails to the Chicago Dispatcher were not immediately returned to HuffPost.
Last month, taxi companies and drivers filed a lawsuit against the city accusing it of not enforcing its own laws on taxi services, thereby allowing ride-share services to unfairly compete.
Correction: An earlier version of this story referred to Angela Benander as ITTA's vice president. She is the group's spokesperson.