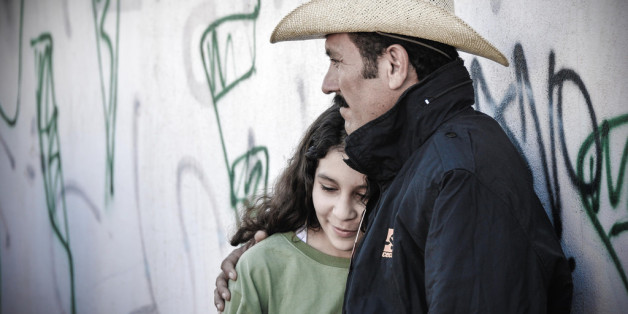 U.S. immigration authorities have deported one of the undocumented immigrants who crossed the U.S.-Mexico border this week as part of a protest against the family separation caused by President Barack Obama's record-setting pace of deportation, activists said Wednesday.
Dolores Lara, who has children still living in the United States, was returned to Mexico after presenting himself to immigration authorities at a legal port of entry in San Diego on Monday. Lara belonged to a group of more than 120 immigrants planning to cross into the United States and ask to stay in the country, either through humanitarian parole or asylum.
Lara's daughter Jessica traveled to Mexico to accompany her father as he presented himself to U.S. authorities at the border, while his other daughter, Elizabeth, waited on the American side. It was the first time Lara had seen Jessica since he was deported three years ago from Yakima, Wash. She turned 11 on Wednesday.
Elizabeth, 21, could not cross to Mexico to meet her father because she is undocumented. She said she and her father had discussed the possibility that he would be deported once again, but that he wanted to find a way to reconnect with his family in the United States.
"He decided to take that risk because he wanted to be with his children, with us," Elizabeth told The Huffington Post. "I was really hopeful that my little sister would come home with him. I called and talked to my sister before the crossing to ask how she was feeling, and she said she was excited and ready to come home with Dad."
Crying as she spoke, Lara says that she's resigned herself to remaining separated from her father for the moment, because she didn't want him to risk his life by crossing illegally.
"I'm always going to be there for him and I'm just a call away," she said.
Neither Immigration and Customs Enforcement or Customs and Border Protection immediately returned requests for comment.
More than 30 migrants crossed on Monday, and all of them except Lara remain detained while border authorities process their cases, a spokeswoman for the group told HuffPost. The rest plan to cross in similarly sized groups throughout the week.
"We're tired of hiding from the police, tired of being a business for this country, tired of President Obama's promises," José Hernández, whose daughter Rocío is among the immigrants crossing, said in a video posted to the National Immigrant Youth Alliance's Facebook wall.
The mass border crossing, dubbed the "Bring Them Home" campaign by organizers, is the third in a series of increasingly audacious attempts by NIYA to protest deportations.
In the first, three undocumented immigrants -- Lizbeth Mateo, Lulu Martinez and Marcos Saavedra -- traveled to Mexico, then returned in July through the legal port of entry at Nogales, Ariz., where they declared their immigration status to U.S. authorities. Having picked up six sympathizers along the way, the group called themselves the "Dream 9." All nine applied for asylum and were released from detention after passing interviews establishing that they had a "credible fear" of returning to their home countries, one of the steps in the asylum process.
In November, more than 30 people who had lived part of their lives in the United States as undocumented immigrants crossed into Laredo, Texas, once again declaring their immigration status to officials at the border. That time, U.S. authorities deported several of the participants -- Rocío Hernández among them -- though most of the group was allowed to enter the United States.
The protests come as President Obama faces increasing criticism from immigrant activists and Latino leaders for his record on deportations.
BEFORE YOU GO
PHOTO GALLERY
6 Misconceptions About The Border