Carmen Vargas-Rosa, a lifelong member of the Christian evangelical church at the center of the Harlem building collapse, said church members are still trying to find at least two tenants who have been missing since this morning's disaster.
There are six apartments above the church housing about 20 people, she said, all of whom were members of the Spanish Christian Church. All morning, church members have been frantically working to account for everyone in the building.
Some thought to be missing turned out to be at work and school, and other tenants were confirmed to be at Mt. Sinai hospital and other area hospitals, Vargas-Rosa said.
"We know who was safe, but there are those who we don't know anything about," she said.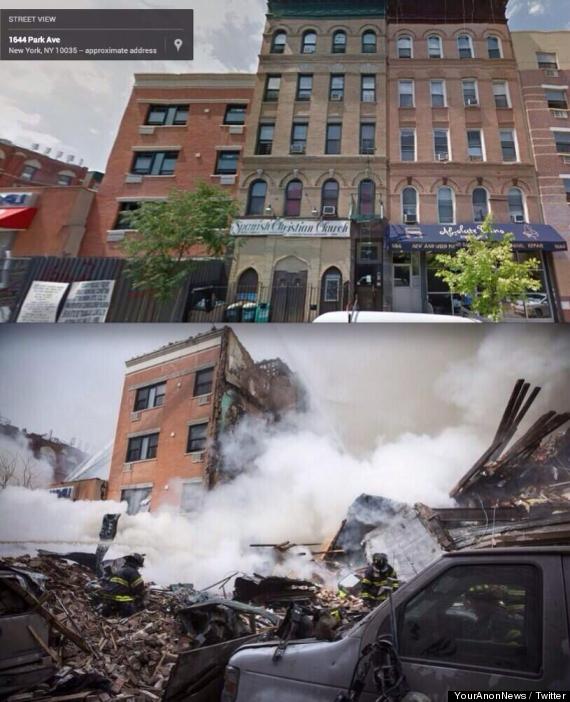 The church at 1644 Park Ave before and after the horrific explosion.
She said it was unclear whether the two reported dead were from the church building or the neighboring structure.
Vargas-Rosa said she smelled gas last night when she was in the neighborhood visiting family members. She said she thought the smell was coming from the deli at the corner of 116th and Park Ave., and told the owners about it.
The Spanish Christian Church has a long history in Harlem, just celebrating its 80th anniversary last fall. There are about 60 total church members.
The registered head officers for the church are Rev. Santos Mercado and Rev. Thomas Perez, according to Village Voice.
BEFORE YOU GO
03/14/2014 1:22 PM EDT
De Blasio Details Housing Plan
Mayor de Blasio said displaced families will be provided temporary housing for up to three months, thanks to Real Estate Board of New York.
03/14/2014 1:18 PM EDT
FDNY Commissioner: Final Debris Being Removed
FDNY Commissioner Sal Cassano said the department is in the process of removing the site's final debris. The debris will be taken to Randall's Island for further forensic investigation.
03/14/2014 12:21 PM EDT
Bill Clinton Visits Explosion Site
Former President Bill Clinton is currently visiting the site of the #EastHarlemExplosion

— Dan Linden (@DanLinden) March 14, 2014
03/13/2014 7:31 PM EDT
The Tragic Irony Behind The Building Collapse
HuffPost's Saki Knafo reports:
A gas leak almost certainly played a role in the explosion that flattened two buildings in Manhattan on Wednesday morning, killing at least seven people and injuring many more. City officials have said as much, and local residents told reporters on Wednesday that they smelled gas in the area well before the blast.

So it's darkly ironic that the owner of one of the buildings destroyed in the explosion had actually shunned gas for an alternative energy source -- a far less combustible one.

Biodiesel, a unconventional fuel celebrated by proponents as a safer and cleaner alternative to both gas and petroleum, is made of recycled vegetable oil, animal fats, and other substances. Only about 1,000 buildings in New York City have heating systems that run solely on biodiesel, but the building at 1646 Park Avenue was one of them.
03/13/2014 7:13 PM EDT
Officials: Eighth Person Found Dead
BREAKING: NYC officials say 8th body pulled from rubble at Harlem explosion site.

— The Associated Press (@AP) 4 years ago
03/13/2014 1:11 PM EDT
De Blasio: No Indication Of Asbestos In The Air
De Blasio said that there was no reason to suspect there might be asbestos in the air after a deadly explosion that rocked Harlem on Wednesday. In a presser on Thursday, he stressed that people in the area should still close their windows and avoid any visible smoke outside.
03/13/2014 1:08 PM EDT
NYPD Commish: We Will Look At Surveillance Footage
NYPD Commissioner Bill Bratton said that there were a number of surveillance cameras that captured images of the explosion and they will be a part of the ongoing investigation.