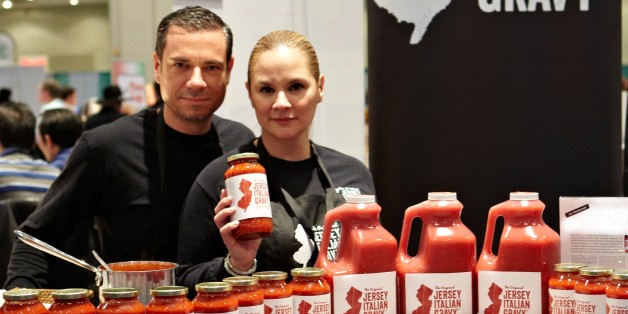 Carlos and Constance Vega have always been a business-driven couple.
In 2007, a few years after the birth of their first child, they left their respective big city jobs to focus on their newly-forming family, and purchased a local pizzeria in Guttenburg, NJ -- where Carlos Vega had worked at in his youth. A few years later, they'd successfully managed to revitalize Father and Son Pizzeria, according to the New York Times.
But while Carlos Vega enjoyed the work, the long hours were taking him away from his family.
"You literally need to live in a restaurant," he told The Huffington Post. He was working 14 hours a day, 7 days a week. Something had to change.
The pizzeria, while the problem, also held the solution. Customers adored Vega's tomato sauce -- called gravy by some Italian-Americans -- often requesting extra sauce on the side with their orders. "I quickly found there was an opportunity with this sauce of ours," Constance Vega recalled. The couple experimented with the idea of selling their special gravy, and began jarring the product and selling it from the pizzeria.
Eventually, the Vegas were ready to get out of the restaurant business and into the speciality food business. "Let's just shoot for the stars," Constance Vega told her husband. "Let's just do this."
The family sold their restaurant in 2009 and launched Jersey Italian Gravy in 2012. Since then, the product has taken off,selling in over 150 stores including Whole Foods Market and Bed Bath and Beyond, at $8.99 a jar.
Their story, which has been written about by the New York Times and the Street, has a lot to tell us about the secrets of managing a small business, while maintaining a work-life balance :
1 - Family Comes First
The Vegas let the needs of their family drive their business aspirations. "Family is first, then comes your business," says Carlos Vega. After giving up the restaurant, he has found the perfect work-life balance. Most nights the Vegas share a family meal, get their kids ready for bed and then catch up on their business's clerical duties.
2- Make Time For Romance
"We feed off each other," says Constance Vega. Being able to spend more time together has strengthened their marriage. The couple still has date nights. Although, says Constance Vega, "we have all good intentions, [but] it's five minutes romance, and the rest is all business." Still, they wouldn't have it any other way. "We're very entrepreneurial," she says. "The two of us together, it's like synergy."
3 – Stay Flexible and Make Adjustments
"You make adjustments in your life," says Constance Vega. The Vegas have streamlined their personal lives, downsizing their living expenses and moving into a smaller house. But it has only made them closer. Making adjustments is nothing new for the Vegas. When they first started out, they brought samples of their product to local businesses seeking out advice and feedback prior to production.
4 – Be Smart About Money
The couple agrees that one of the major keys to their success was how they handled their finances. "We don't owe any money," says Constance Vega. They didn't want to sacrifice their family for the sake of their business ventures. So instead of refinancing their home or dipping into college funds, they decided to start small. They did a test run, sold to interested businesses who tried samples before buying, and then grew incrementally.
5 – Let Family Drive All Aspects Of Your Business
"Our family is closer now," says Carlos Vega. "We've already been through all the hurdles." Calling the sauce "gravy," is a family tradition too, and they see the product's name as a unique tribute to their own history. They hope to pass the business on to their two children one day.
6 – Divide and Conquer
When it comes to production and distribution, the couple has decided to divide and conquer. While Carlos Vega works his day job, his wife keeps track of the business. On the weekends, they trade off on duties including visiting the production center to make sure each small batch is cooked and bottled correctly -- he watches the kettle and she supervises the jars.
7 – Always Have Fun
Above all, the Vegas have a great time. "I get to be with my wife," says Carlos Vega, "and spend time with [my] family." Mostly they love sharing their family history and recipe with adoring fans. "It's humbling to us when somebody really enjoys your product," says Constance Vega.
"There's dreamers and there's doers." she continues. "You can dream all you want, but if you don't make them a reality, you're never going to know."
For Carlos and Constance Vega, every day now is just gravy.
Correction: An earlier version of this article misstated the name of the pizzeria and the years in which it was purchased.
BEFORE YOU GO
PHOTO GALLERY
10 Best Cities To Get Rich