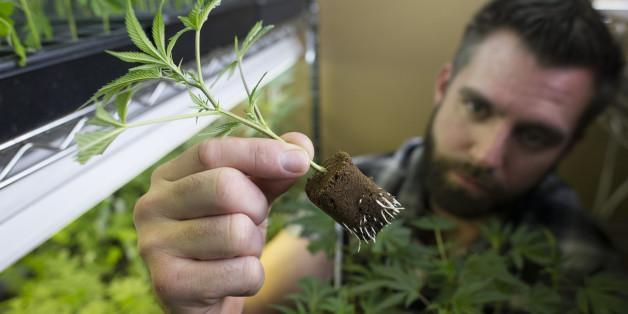 Los Angeles has shut down more than 100 pot shops since the summer, the city attorney announced this week.
The city is enforcing a new law, approved by voters in May, to limit the number of medical marijuana dispensaries in LA to 132 shops. Enforcing the law, called Proposition D, is no small task given the estimated 800 pot shops that exist across the city, according to the city attorney's figures.
"With the invaluable work of our partner LAPD, we have been successfully and aggressively enforcing Proposition D and upholding the will of the voters," City Attorney Mike Feuer said in a statement Monday. Feuer also announced a new campaign to assist the real estate industry and property owners in complying with the new law.
There are several requirements in Prop D specifying which pot shops are approved. The most limiting requirement is that any shop must have been in operation since September 2007. Violations of Prop D are misdemeanors, and every day in violation can bring a $1,000-$3,500 fine and six months in county jail, according to an FAQ document posted by the city.
Feuer has prosecuted about 300 pot shop operators, employees and property owners, Rob Wilcox, the city attorney's communications director, told The Huffington Post. So far, no jail time has been given out -- only fines and probation, he said.
In his statement, Feuer said he has successfully won over 20 legal challenges to the new law. He also said that he recently hired two new attorneys to work exclusively on prosecuting Prop D cases. Los Angeles Police Department Chief Charlie Beck said that the department is significantly increasing the number of officers trained to enforce the measure. "We will subsequently increase the number of cases we submit for prosecution," Beck said in the same statement Monday.
Despite the passage of Prop D, nearly 300 new dispensaries were issued tax registration certificates after it took effect, Antoinette Christovale, the general manager of the LA Department of Finance, told HuffPost. There are currently 1,140 dispensaries listed as active, Christovale said. However, according to Wilcox, some of those may never have opened or may have been shut down.
LA has collected $8.6 million in taxes from dispensaries since it first started taxing them in 2011, according to Christovale. Since Jan. 1 alone, pot shops have paid LA $1.6 million. Christovale said the city does not plan to stop issuing certificates to dispensaries, unless directed otherwise.

The city attorney's office said that tax registration certificates do not protect shops under Prop D. In other words, shops that just opened are subject to forced closure and prosecution.
"If the finance department continues to issue certificates that are essentially meaningless, they are doing nothing to help the confusion that already exists in LA over who is legal and who is not," said Amanda Reiman of the Drug Policy Alliance, which advocates for the decriminalization of responsible drug use. "This confusion speaks to the need to pass state-level medical marijuana regulations in California."
Medical marijuana advocates are concerned about negative consequences that could occur from dramatically decreasing the number of dispensaries.
"Traffic and air pollution are already big issues in LA. We don't need more people driving further to get their medicine," said Karen O'Keefe of the Marijuana Policy Project, which seeks to eliminate penalties for marijuana use. "In addition, limiting the number of dispensaries dramatically may result in more people going to the criminal market."
BEFORE YOU GO
PHOTO GALLERY
27 Reasons Why U.S. Shouldn't Lead War On Drugs