Turkish police responded with a show of force to protests after the funeral for a boy who died following injuries sustained during 2013's violent clashes in Istanbul.
Berkin Elvan, 15, died Tuesday after being in a coma for 269 days, according to the BBC. Elvan was struck in the head by a tear gas canister as he walked to get bread during last summer's anti-government protests.
"What am I to do now? They've taken my everything," Elvan's mother, Gulsum Elvan, yelled as her son's coffin was lowered into the ground.
After the announcement of Elvan's death, new protests sprung up in several Turkish cities. Demonstrators burnt barriers and shouted against the government's strong-arm tactics. Turkish riot police responded with force, firing tear gas and blasting protesters with water cannons.
On Thursday, Turkish Prime Minister Recep Tayyip Erdogan accused protesters of inciting chaos across the country in order to influence upcoming elections. "You were supposed to be democrats, pro-freedom. These are charlatans, they have nothing to do with democracy, they do not believe in the ballot box," Erdogan said in Ankara.
The powerful photos below show the devastation among Elvan's friends and family, as well as the fierce and intense reactions from both police and protesters. Thousands of people march for Berkin Elvan, a Turkish teenager who was in a coma since being hit on the head by a tear gas canister fired by police during anti-government protests in the summer of 2013, during his funeral in Istanbul, Turkey, Wednesday, March 12, 2014. (AP Photo/Emrah Gurel) People carry the coffin of Berkin Elvan during his funeral in Istanbul, Turkey, Wednesday, March 12, 2014. (AP Photo/Emrah Gurel) Family members cry as people carry the coffin of Berkin Elvan during his funeral in Istanbul, Turkey, Tuesday, March 11, 2014. (AP Photo/Emrah Gurel)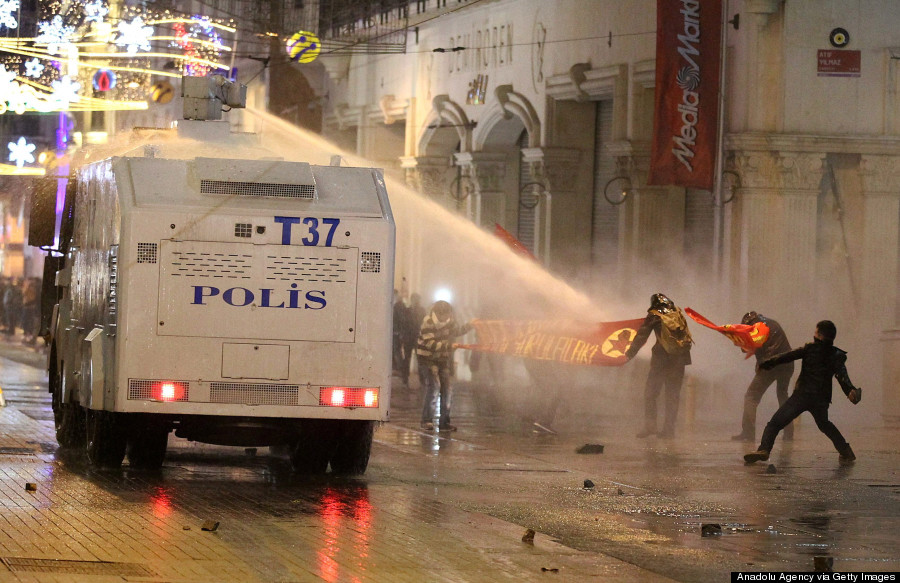 Riot police disperse group of demonstrators staging a protest following the death of 15-year-old Berkin Elvan at Taksim Square in Istanbul on March 12, 2014. (Sinan Gul/Anadolu Agency/Getty Images)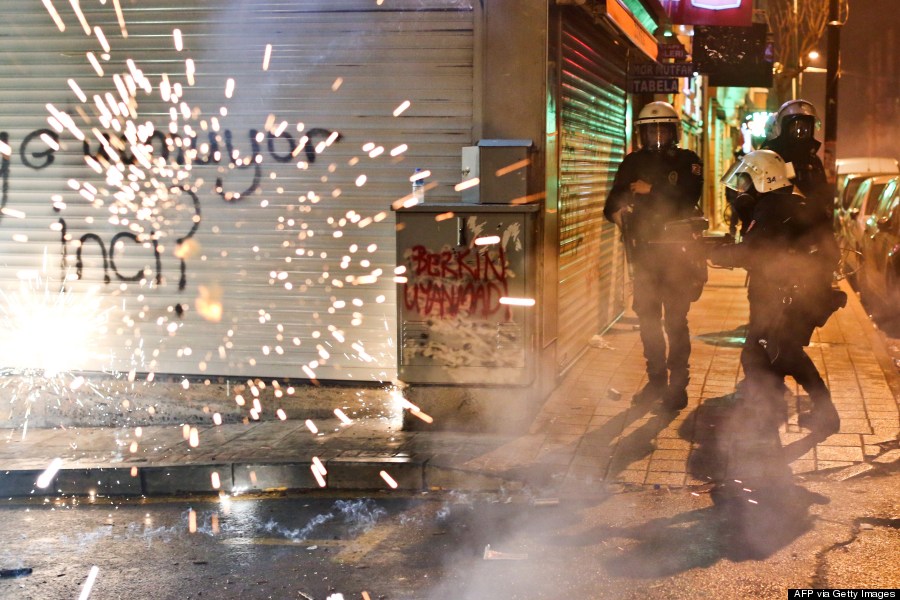 Turkish riot policemen walk behind a barricade as they clash with protesters after the funeral of Berkin Elvan in Istanbul on March 12, 2014. (GURCAN OZTURK/AFP/Getty Images)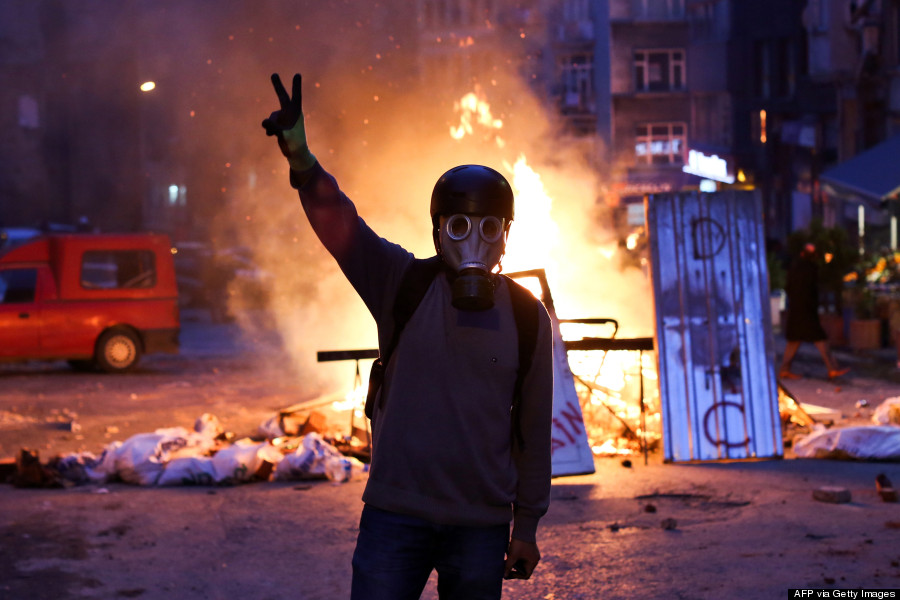 A protester flashes the V-sign following clashes between police and demonstrators after the funeral of Berkin Elvan in Istanbul on March 12, 2014. (GURCAN OZTURK/AFP/Getty Images) People help a man affected by teargas as riot police use water cannons and teargas to disperse thousands of people marching for Berkin Elvan in Istanbul, Turkey, Wednesday, March 12, 2014. (AP Photo/Emrah Gurel) Riot police use water cannons and teargas to disperse thousands of people marching for Berkin Elvan during his funeral in Istanbul, Turkey, Wednesday, March 12, 2014. (AP Photo/Emrah Gurel)
A protester shouts at policemen during clashes between police and demonstrators after the funeral of Elvan, in Istanbul on March 12, 2014. (GURCAN OZTURK/AFP/Getty Images) Riot police use water cannons and teargas to disperse thousands of people marching for Berkin Elvan in Istanbul, Turkey, Wednesday, March 12, 2014. (AP Photo/Emrah Gurel) Demonstrators clash with riot police following the funeral of Berkin Elvan. (AP Photo/Emrah Gurel)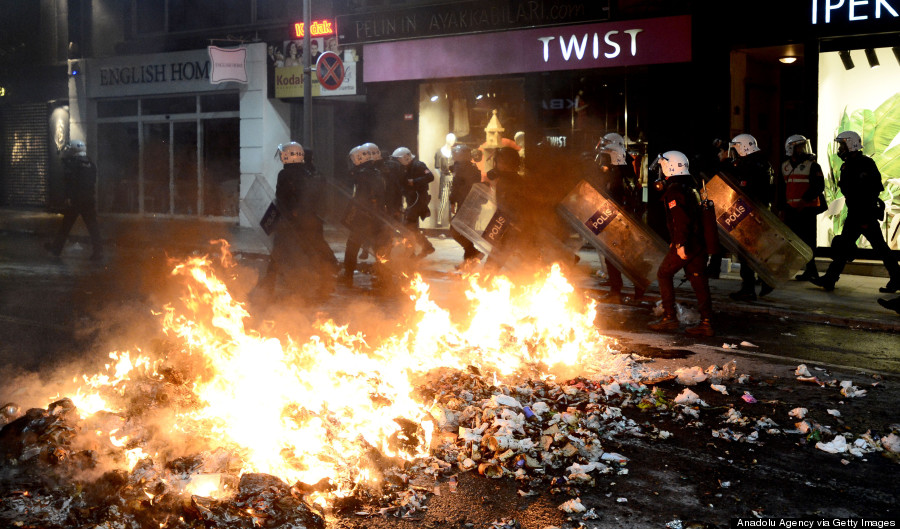 Protesters set barricades on fire and block the roads during a protest in Osmanbey neighborhood, Istanbul on March 12,2014. (Berk Ozkan/Anadolu Agency/Getty Images)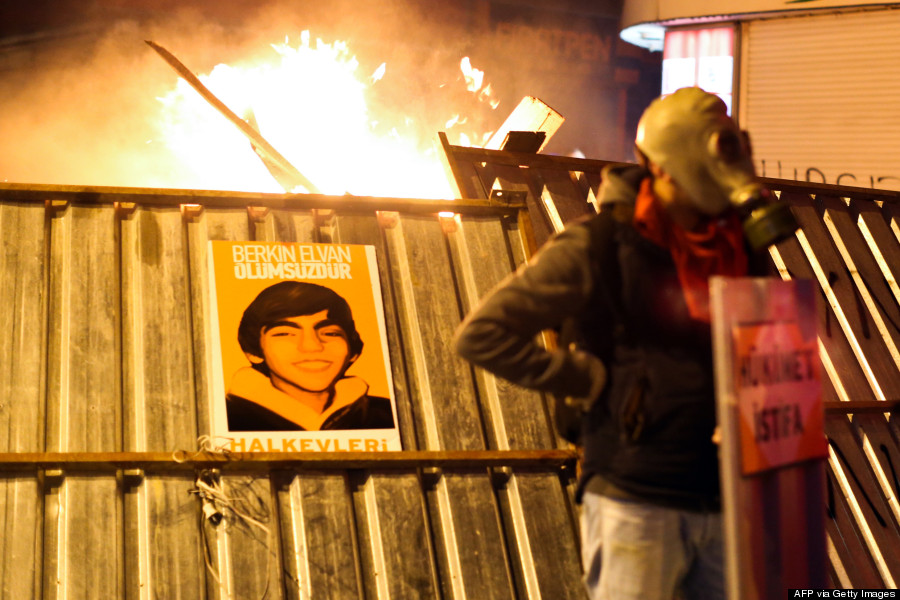 A protester stands in front of a barricade bearing a portrait of Berkin Elvan following clashes between police and demonstrators after the funeral of Elvan, in Istanbul on March 12, 2014. (GURCAN OZTURK/AFP/Getty Images)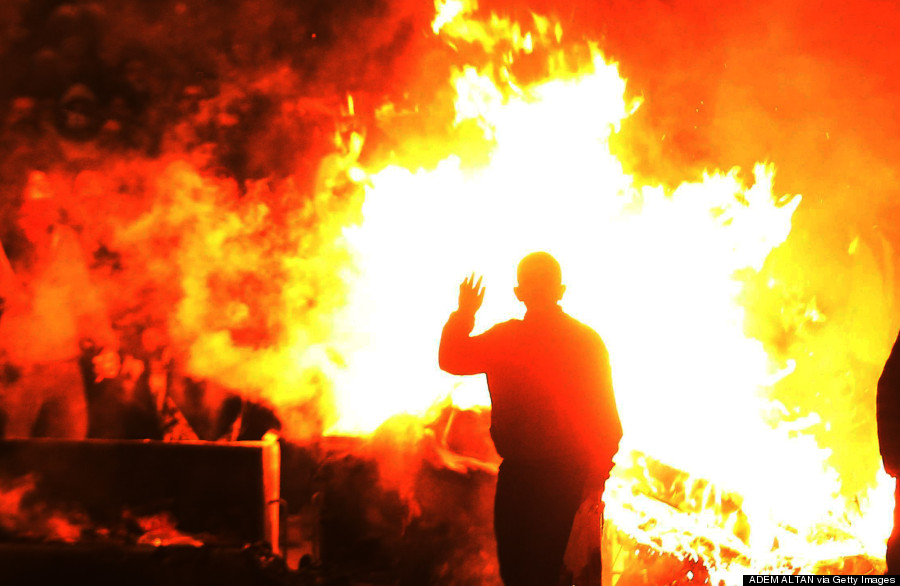 Anti-government protesters stand behind a barricade that they set on fire during a demonstration in Ankara March 12, 2014. (ADEM ALTAN/AFP/Getty Images)