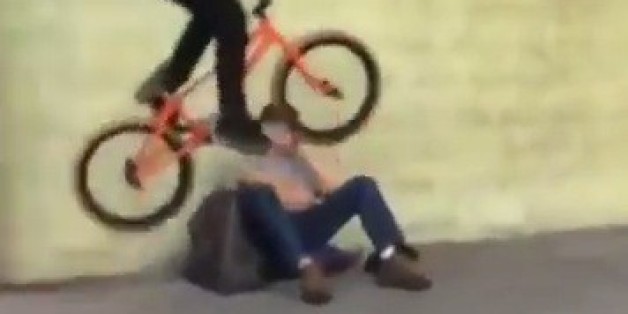 A group of Southern California BMX bikers are facing public outcry over a video that shows them using homeless people as props for their bike tricks.
The short clip, shot like a highlight reel, shows bikers hopping over people sitting or laying on the streets and sidewalks of downtown Los Angeles. There's no indication that the homeless people were in on the video.
Warning: footage may be disturbing to some.
Los Angeles Police Department officer Deon Joseph didn't mince words about the bikers when talking to NBC Los Angeles, who first reported on the video Tuesday evening.
"This is just a matter of not having value for another human being," said Joseph to NBC LA. Watch NBC's video report for reaction to the video from the homeless community:
The video spread when Adam Grandmaison, the owner of the OSS Bikeshop in downtown LA, posted the clip on his company's Facebook page. On the day that NBC aired their report, a spokesperson for the shop took to the Facebook page to apologize for re-posting the video.
"Those guys are our friends but we don't condone anyone disrespecting the homeless and apologize for anyone we offended," he or she wrote.
But in a subsequent post on the BMX site The Come Up the next day, Grandmaison defended his choice to re-post the clip and said it could one day inspire "some little kid" to "bunnyhop over some shit, human or not." He also identified the bikers in the video as Jeff Cadger, David Grant and Brandon Begin.
From the post:
I suppose this is where I should apologize for sort of kind of condoning my friends bunnyhopping over a couple of homeless people. Honestly I've never bunnyhopped over a homeless person but I wasn't exactly offended seeing my friends do it either. That video captured the anti-social aspect of riding street that I've always loved. The news are trying to pass this off as us having no respect for the homeless, which apparently passes for a legitimate news story in 2014. A few hundred people briefly complaining on Facebook doesn't strike me as something that necessitates a segment on the news. But it doesn't exactly bother me either. Maybe, just maybe, some little kid will see that video and get motivated to ride down the street and bunnyhop over some shit, human or not.
The company overview on his store's Facebook page describes OSS Bikeshop as a "Long Beach based BMX clothing line and crew of assholes." Sounds about right.
BEFORE YOU GO
PHOTO GALLERY
Celebrities Who Were Homeless