CHICAGO -- Every downtown worker's worst winter nightmare came true for one well-known political consultant as he was strolling through Chicago's Loop early Tuesday.
A baseball-sized chunk of ice from a nearby residential high-rise fell and hit Dan Curry as he was walking on his way to meet his boss near Washington and Wells around 7:30 a.m. Tuesday. Curry told NBC Chicago he initially felt like he had been hit with a baseball or hockey puck.
"The thing that really scared me was that there was a lot of blood, and I reached up and my hands were filled with blood and there was blood all over the place," Curry told NBC.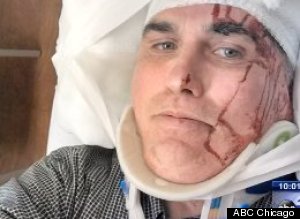 Curry in the hospital Wednesday.
Luckily for Curry, a Good Samaritan stopped to offer help. Nadine Brodala, a local periodontist, wrapped Curry's head to stop the bleeding, Fox Chicago reports.
Curry told CBS Chicago he sees the signs warning of falling ice in the winter, but says, "Caution means what? There's no alternative. You can't walk in the street."
"I didn't lose consciousness but we have all read stories, these unfortunate stories of people who have died from this, so you just don't know. It is a very frightening situation," Curry told ABC Chicago.
After the incident Curry took to Twitter where he connected with Brodala and shared a photo (embedded below) of him with Republican U.S. Senate candidate Doug Truax (for whom Curry is a spokesman).
Thursday morning outside the city's tallest building, Sears Willis Tower management closed off the main entrance for about an hour due to falling ice, according to the Tribune.
The Atlantic reports that while the National Oceanic and Atmospheric Administration (NOAA) doesn't keep data on injuries and fatalities from falling ice, Chicago appears to have the lion's share of falling ice-related incidents.
Perhaps the city's most well-known ice-falling incident is also its most tragic. In 1994, Donald Booth of Wisconsin was killed instantly after a 100-pound block of ice "the size of a microwave" fell from the facade of the Neiman Marcus building on Michigan Avenue, hitting the 48-year-old. The family would later win a $4.5 million lawsuit against Neiman Marcus and the building's owner.
BEFORE YOU GO
PHOTO GALLERY
Chicago Under Ice 2014