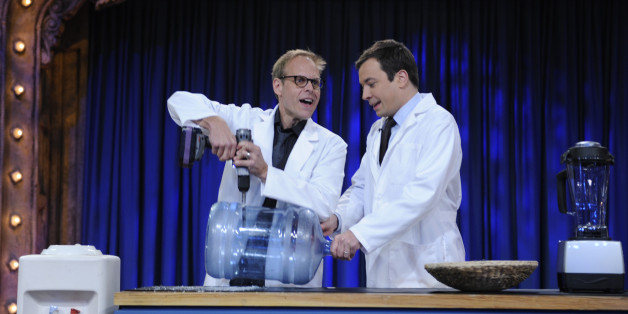 Long before DIY became a trendy term via Pinterest, Alton Brown was hard at work on the Food Network show "Good Eats," training home chefs on the virtues of science and thriftiness in the kitchen. Brown's ban on "unitaskers," or cooking tools with only one use, led to some resourceful hacks. Here are some of our favorites.
1. Turn your grill into a smoker by making a tin foil pouch filled with wood-chips.


Recipe here
2. Make your own Greek yogurt with a bowl, strainer, saucer and a soup can.


Recipe here
3. Perfectly dice your avocados for guacamole with a potato masher.


Recipe here
4. Don't wash your turkey pan until you make gravy incorporate those brown bits of goodness stuck to the bottom of the pan for the best-tasting gravy ever.


Recipe here
5. Use a waffle iron to make bacon.


Recipe here
6. Or use a panini press to make roast chicken.


7. Or make homemade flat bread.


Recipe here
8. Use a steamer to roast peppers.


And don't forget to steam the skin off by placing a bowl on top


Recipe here
9. Pie tins can be converted into a stacked bamboo steamer.


Recipe here
10. You can make a make shift terrine pan with two bread tins.


Recipe here
11. Pit olives for tapenade with a bench scraper.


Recipe here
12. Protect your asparagus heads from burning by making this tin foil pan.


Recipe here
13. A fine or rasp grater does a great job grating nutmeg.


Recipe here
Or use a coffee grinder for whole spices to make your own blends


Recipe here
14. Tap on a butcher's knife with a mallet to cut a squash.


Recipe here
15. Make your own taco seasonings.


Recipe here
16. Dry age steak with pan tins, skewers and a paper towel.


Recipe here
17. Protect your turkey or chicken's breast from overcooking by using this tin foil hat.


Recipe here
18. Top your sangria with the ice to hold down the fruit.


Recipe here
BEFORE YOU GO
PHOTO GALLERY
Best Cooking Tips and Recipes for the Munchies