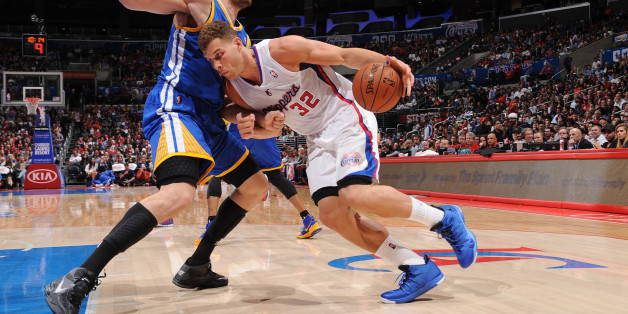 Jermaine O'Neal is the latest NBA player to apparently have a problem with Blake Griffin.
The Golden State Warriors' veteran waited outside the Los Angeles Clippers' locker room to confront Griffin after the teams played on Wednesday night, Arash Markazi of ESPNLosAngeles.com reported. Following the Clippers' ninth consecutive win, Griffin reportedly told O'Neal to "leave that s*** on the court" before they were separated. Despite the apparent hostility, the confrontation ended with a handshake, according to the Orange County Register,
O'Neal was assessed a technical foul during the fourth quarter when he walked toward the Clippers bench and appeared to be jawing at Griffin. Fortunately for both teams, nobody was ejected as was the case on Christmas day when Griffin and Golden State's Draymond Green got tossed after a scuffle.
The confrontation on Wednesday came just two days after Phoenix Suns forward P.J. Tucker took a swing at Griffin on the court and was subsequently ejected from the game.
Following Los Angeles' win over Phoenix that night, Chris Paul praised his teammate for keeping his composure while opponents get overly physical with him.
"He sacrifices so much for us," Paul said Monday, via the Los Angeles Times. "He could easily punch back, get to fighting. He didn't. I don't know how he does it. That's pretty selfless of him because he could do that and [then] he's suspended for a few games and that hurts our team. It's huge."

BEFORE YOU GO
PHOTO GALLERY
2013-14 NBA Highlights