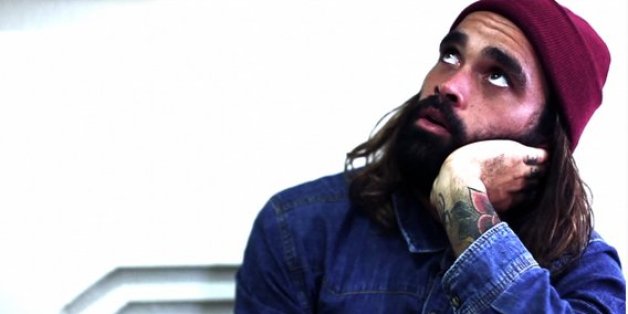 Surfing Life magazine is in deep water after publishing an article on Indigenous surfer Otis Carey that described him as "apeish."
The article's author Nathan Myers wrote the story on the 23-year-old surfer for the Australian magazine's March edition. The troublesome part: "With his apeish face and cowering hair-curtains, I expect little more than Cro-Magnon grunts from his mouth. I am caught off guard by the clarity and eloquence of his speech."
The magazine apologized Wednesday for using the word "apeish" and said that they "failed to see the racist connotations" behind the term.
Carey, however, did not. The Telegraph Australia reports that he was "devastated" by the description. Soon after, tweeters got to tweeting:
Can you believe what @SurfingLife published? To paraphrase: 'Otis Carey looks like an ape, it surprised me he could do more than grunt.'

— Anthony Vela (@AnthonyVelaSUP) March 12, 2014
You like racism kids? Read @SurfingLife

— Not Dane Reynolds (@Dranolds) March 11, 2014
Disgusting #racism by @SurfingLife cannot believe the editor didn't pick this up http://t.co/u4VzVd6vTi

— fuz (@fuzi_logic) March 11, 2014
@SurfingLife writer Nathan Myers is a racist prick. To read this rag is to support bigotry. Get the word out. Cancel and don't buy.

— D Langley (@davelangled) March 12, 2014
@SurfingLife = Extremely Racist. Remember the non-white guy who introduced your whole country to surfing!!!!!

— Anthony Vela (@AnthonyVelaSUP) March 12, 2014
After Surfing Life issued this apology on Wednesday, the outrage got worse. The apology stated that the magazine's staffers "absolutely abhor racism of any kind" and that the editor is "a man of colour whose maternal family immigrated to Australia from Africa." Readers slammed the magazine for using the fact that the editor is black to compensate for the error.
@r0adsideservice @IndigenousX @kaiako_nz @LukeLPearson @DrSRP1 @SurfingLife its ok one of our editors are black.WTF?

— peter anderson (@pj_and) March 12, 2014
So @surfinglife who reads the proofs if not the editor - "we" failed to see the racist connotations. OMG more than 1? http://t.co/lLgO2146Nn

— Indigenist. (@db_1974) March 12, 2014
Wade Davis just took the whole "some of my best friends are black" excuse to another level." Too bad his friends aren't better editors.

— Not Dane Reynolds (@Dranolds) March 12, 2014
Read the entire apology from Surfing Life below:
Yesterday it was brought to our attention that Otis Carey and his family were offended by a term used in the article, Poetry Night With Mermaid Killer, published in the March issue of Surfing Life.

Upon the original edit of the magazine, we read the offending term as a jibe at the stereotypical surfer – and failed to see the racist connotations. Immediately upon being made aware of these, we offered our unreserved apologies, which they were gracious enough to receive.

At Surfing Life, we absolutely abhor racism of any kind and actively work to eradicate it from our culture. In the same issue, we extended five pages of free advertorial space to a charity active in remote Indigenous communities and while our respect for Otis is primarily driven by his incredible talent as a surfer, we also admire the fact he is a role model for many Indigenous Australians.

On a personal note, our Editor Wade Davis is a man of colour whose maternal family immigrated to Australia from Africa. He also has Indigenous heritage on his paternal side and is exceptionally sensitive to the challenges and issues racism presents in our community. Davis is devastated that a thoughtless misread could have allowed an insensitive and damaging term to have slipped through to publication.
Unfortunately, none of this changes Otis', or his family's hurt. We have since amended our digital edition of the magazine, published this apology online and continue to offer our apologies to the Carey family and Indigenous community overall. Otis' family requested that we not contact him at this time and we continue to respect their wishes.

– Surfing Life
(h/t: BuzzFeed)
BEFORE YOU GO
PHOTO GALLERY
Journalism Scandals