The number of Americans feeling satisfied with the U.S. has increased slightly since October. Another poll shows that intensity of opinion is on the side of Obamacare opponents. And Wednesday's weather forecast makes political prediction look uncannily accurate. This is HuffPollster for Thursday, March 13, 2014.
AMERICANS 'SLIGHTLY MORE UPBEAT' ABOUT U.S. DIRECTION - Justin McCarthy: "One in four Americans (25%) are satisfied with the way things are going in the country at this time -- a low figure in an absolute sense but the highest since last July. Still, nearly three times as many Americans remain dissatisfied with how things are going in the U.S. These results are from a March 6-9 Gallup poll, which show that Americans' satisfaction with the country's direction is gradually recovering from a recent low of 16% in October, during the federal government shutdown. Satisfaction with the nation's direction has generally hovered in the 20s since early 2012. The highest satisfaction reading in recent years (33%) came in November 2012, just days before Barack Obama's re-election." [Gallup]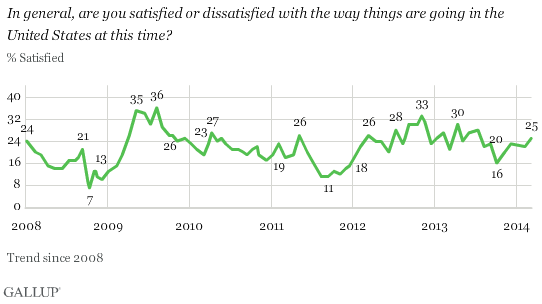 Similar trend in 'right direction-wrong track' question - Similarly, many pollsters track a question that asks if "things in the nation are generally headed in the right direction" or are "off on the wrong track." Over the past month, most national surveys have yielded results in the high 20s or low 30s, up from October when, in the midst of the government shutdown when it fell to the mid-teens.
BLOOMBERG POLL: OBAMACARE A 2014 PROBLEM FOR DEMS - Mike Dorning: "President Barack Obama's health-care law is becoming more entrenched, with 64 percent of Americans now supporting it outright or backing small changes….The law's opponents have the advantage of intensity, which was on display in the March 11 Florida election for a vacant congressional seat. After a campaign focused on differences over Obamacare, Republican David Jolly turned out more of his supporters than did Democratic candidate Alex Sink….'In off-year elections, turnout is a huge factor,' said J. Ann Selzer, who conducted the survey for Bloomberg. "The anti-Obamacare segment is both more likely to say they will definitely vote and more likely to say their vote will be strongly influenced by their view of Obamacare; that can be enough to sway a race.'" [Bloomberg]
Perceptions vary by party - Dorning: "Republicans and Democrats have become so polarized over the Affordable Care Act that they have alternative perceptions of how the law has touched their families and friends. Fifty-nine percent of Republicans say they personally know someone who has been hurt by the law and only 14 percent say they know someone who has been helped. Among Democrats: 48 percent say they know someone the law has helped and only 19 percent know anyone who has been hurt."
Clinton, Christie face credibility challenges - John McCormick: "Americans aren't buying the explanations offered by Chris Christie and Hillary Clinton about controversies that could stand between them and the White House if either runs for president in 2016. Sixty-three percent say they don't believe the New Jersey governor's claims that he knew nothing of a plan by his top aides to create a politically motivated traffic jam, according to a Bloomberg National Poll….More than half say they don't believe Clinton, the former secretary of state, when she says she never saw requests for more security before the 2012 attack at a U.S. diplomatic compound that resulted in four American deaths in Libya." [Bloomberg]
HUFFPOLLSTER VIA EMAIL! - You can receive this daily update every weekday via email! Just enter your email address in the box on the upper right corner of this page, and click "sign up." That's all there is to it (and you can unsubscribe anytime).
THURSDAY'S 'OUTLIERS' - Links to the best of news at the intersection of polling, politics and political data:
-The percentage of Americans citing health care as the most important problem (11 percent) returns to levels measured in October, following a rise to 19 percent during the initial ACA rollout. [Gallup]
-Americans paying more attention to the Ukraine-Russia conflict are more sympathetic to the Ukrainians. [YouGov]
-In Iowa, Democrat Bruce Braley leads potential Republican contenders. [Quinnipiac]
-In Oklahoma, Jim Lankford's internal poll shows him leading the Republican Senate primary. [WashPost]
-Nate Cohn says polls greatly overstate Mitch McConnell's vulnerability. [NYT]
-Kyle Kondik finds nearly all the competitive U.S. Senate seats "in places where Democrats are playing defense." [Crystal Ball]
-Sean Trende says the Florida 13th result tells us nothing we didn't already have better evidence for. [RCP]
-Ed Kilgore renews his warning to Democrats about their "midterm falloff problem." [Washington Monthly]
-Micah Roberts (R) lists ten key findings from the latest NBC/WSJ survey. [POS]
-Ryan Enos and Anthony Fowler find close elections do not increase turnout. [PSRM]
-Scott Clement ponders why pot is hot and sugar is not. [WashPost]
-How someone gets to a website says a lot about how engaged they are with the content. [Pew Internet]
-A study finds that news sites rarely warn readers that interactive poll results aren't scientific. [Engaging News Project]
-An interview with the clockmaker behind the U.S. Naval Observatory master clock, "the most accurate measuring device operationally ever created by mankind to measure anything." [The Atlantic via Flowing Data]
-Weather forecast: "ALMOST EVERY POSSIBLE WEATHER TYPE/HAZARD….THERE IS NOT MUCH LEFT." [Wired]