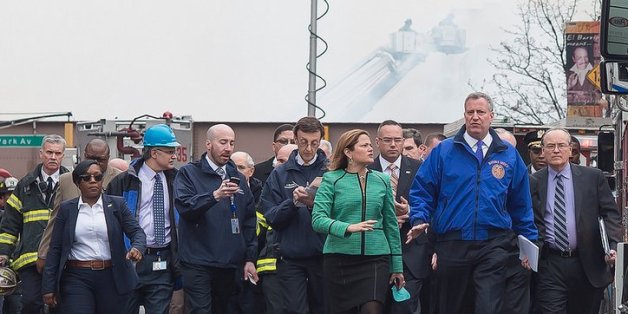 Before two buildings in New York City exploded on Wednesday, killing 7 people and injuring over 60, Mayor Bill de Blasio still hadn't appointed a new Department of Buildings commissioner.
De Blasio, who's two and a half months into his first term as mayor, has been criticized for the slow pace by which he's appointed new commissioners to multiple agencies. On Wednesday, he brushed off suggestions that the lack of a buildings commissioner affected the city's response to the Harlem tragedy.
"I think the bottom line is we have very professional, experienced people at each agency," de Blasio told reporters during a press conference by the smoldering rubble on Park Avenue near 116th Street. He also praised Acting Buildings Commissioner Thomas Fariello, who served previously as first deputy buildings commissioner under Mayor Michael Bloomberg.
"I dare say Commissioner Fariello's been there a while and knows his work. So we know that everyone is doing everything they can to respond to this situation."
Fariello said Wednesday that neither of the collapsed buildings had serious violations before the explosion, which appears to have been caused by a gas leak.
"My hope is that he will fill the [buildings commissioner] position soon," Councilmember Jumaane Williams, the chair of the city council's buildings committee, told The New York Daily News. "But I don't think there's a connection between the blast and him not having appointed a commissioner yet."
De Blasio also has yet to appoint new heads of the Fire Department and the Office of Emergency Management. Those departments are currently led, respectively, by Sal Cassano and Joe Bruno. Cassano and Bruno, both holdovers from the Bloomberg administration, agreed to stay on the job until de Blasio found their replacements.
De Blasio's first deputy mayor, Anthony Shorris, acknowledged earlier this week that the pace of appointments in the de Blasio administration has been "a bit slower than some." Shorris also said his boss was just waiting to find the best people for the jobs.
"In the end, I think all of you… know that choosing the right people is far more important than choosing people quickly," Shorris said, according to Politicker. "Nobody ever remembers how long a cabinet took to assemble," he added, only who's in the cabinet.
BEFORE YOU GO
PHOTO GALLERY
Harlem Building Collapse