An annual tribute to slain Latina superstar Selena in Corpus Christi, Texas, is coming under fire after organizers allegedly told a woman that she is not allowed to perform because she is transgender.
Honey Andrews has reportedly spent the last three years performing at the tribute to the late music icon, but organizers allegedly told Andrews that this year she would not be allowed to because "nobody wants to see a male person dress up like a girl."
Andrews was reportedly planning on fulfilling her annual role at the tribute this year until she received the following text message from organizer Mario Gomez: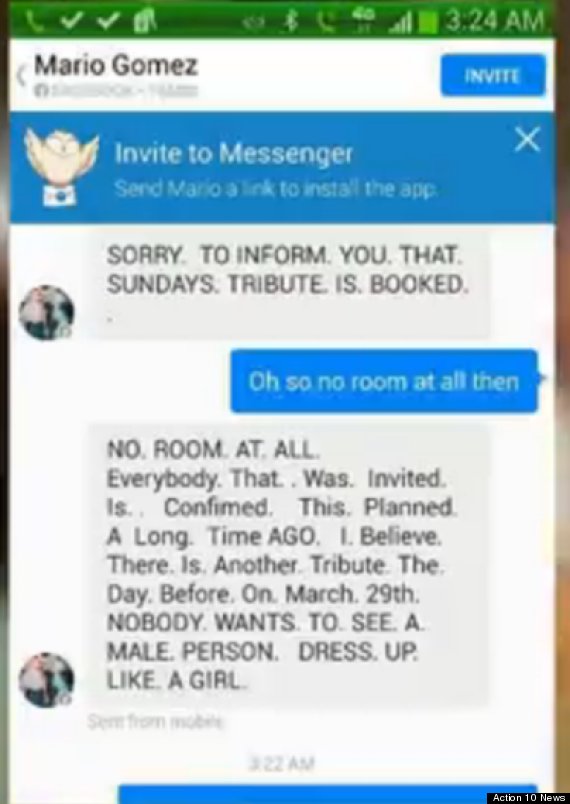 "This type of bullying is not right," Andrews told reporters.
Andrews reportedly stated that she did not want to make a huge deal out of the situation, but rather spoke out so lesbian, gay, bisexual and transgender (LGBT) youth would know it's not OK to be bullied.
"He didn't just offend Honey, he offended the entire LGBT community," co-founder of the Corpus Christi LGBT organization Liz Robledo reportedly stated. "That's unacceptable and we're going to stand behind her 100 percent."
Gomez reportedly apologized after the incident sparked outrage and asked Andrews to return to the stage this year. However, Andrews told reporters that she has chosen to perform at another upcoming Selena tribute instead.
"He did this to clear his name up," she stated. "That's not the way it works. He did something wrong. He needs to face the consequences."
Check out the video above for an interview about the incident with Andrews, or check out her performance from last year below.
)
BEFORE YOU GO
PHOTO GALLERY
48 Transgender Pioneers