As part of our Blended Family Friday series, each week we spotlight a different stepfamily to learn how they successfully blended their two families. Our hope is that by telling their stories, we'll bring you closer to blended family bliss in your own life!
Today we hear from Katie, a reader who grew up in a blended family household with seven kids.
"Our parents were saints. They married at the ages of 34 and 36 and all of us lived under one roof. The kids were all between the ages of 5 to 17," Katie tells us. "Today I realize we are the exception to the rule. There have been hard times and we aren't perfect but I wouldn't want any other family!"
Below, Katie tells us about her strong bond with her step-siblings and shares her advice for new blended families struggling to keep it together.
Hi Katie! Want to introduce us to your family?
Joel and Julie Bradley are "the parents." As we see it, if you raise seven kids you have earned a "the" in your title! Joel's kids are Jake, Aaron, Melissa and Rebecca. Julie's kids are Katie, Danny and Kristen- -- although at this point, we don't really consider any of the kids "his" or "hers." It's just "us."
How long have your parents been together?
It will be 23 years this October!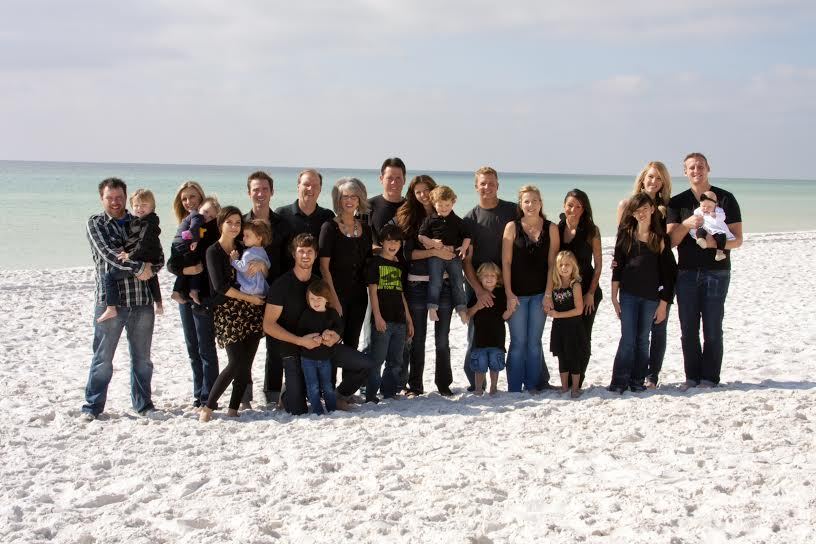 (Ashley Bremer Photography)
What was the best thing about growing up in such a large blended family?
The best thing was having so many people love and support you. All of us are so different but we love and respect each other. Each person brings a different perspective which helps us all to be open-minded. Being part of a broken family brings its struggles, so it is great to have siblings that "get" what you've been through. It is great to have so many people that can see the good and bad in you and still love and accept you despite everything.
Even now, all of the siblings' kids -- the grandkids -- love being together. Even the ones that live out of town talk about the family and are talked about. We take big family vacations and our last one was in Mexico in October. A couple of the grandkids have mentioned wanting to see their cousins that "live in Mexico" -- or as my 4-year-old puts it, "the ones that live in the place with the beach where they speak Spanish."
Growing up with seven kids under one roof had to have been hectic at times. What were some of the biggest challenges?
Parenting styles were a bit different, so that was an issue. It was also difficult dealing with the exes at times and getting one-on-one time with the parents since there were so many of us. I was a senior in high school when they married so my time was limited with the whole family. We kept close with one another by having nightly family dinners. Overall, considering our numbers and circumstances, things were very good.
What makes you proudest of your family?
The way we have remained close. Distance and busy lives make this difficult but we still manage it pretty well. We might not get to talk and see each other as much as we would like but we all make it a priority. It is expensive and difficult to get our schedules together but we make it happen at least once a year.
I think I am most proud of my parents, though. Now that I am a parent and "more mature" (that's a nicer way of saying "older"!), I look back on what they did -- getting married at 34 and 36 with seven kids to raise -- and am astonished. They both worked full-time but still managed to have family time. They managed schedules so we all could participate in extracurricular activities, be involved in church and attend games and performances. I work part-time and have two children and struggle to stay on top of everything. Sometimes I stop and wonder how they did it! It was just by the grace and strength of God.
How did your family manage the stress that comes with being part of a blended family?
Prayer, lots of love, grace, forgiveness, communication, and accepting the fact that there will be tears. My stepbrother, Jake, and I were both seniors in high school when the parents married. Both parents didn't try and "step in" or play the dad or mom role in our lives. They just loved us and earned it. Now we all accept the "step" parent as a legitimate mom or dad in our lives. Even though some of us have relationships with biological parents (and we value those relationships), we still consider both of "the parents" as our mom and dad.
As blended family veteran, what advice do you want to pass onto new blended families that are struggling to keep the peace?
Know that no one is perfect, but always see the good in your family. Have love and mercy but know when you should speak truth to your family members, even when it's hard to hear. Always be kind in those hard moments. Make an effort to just spend time together. Have fun together! Accept each other for all that you are while realizing that the differences are a good thing. Life would be boring if we were all the same!
If you'd like your own family to be featured on Blended Family Friday, please email us at divorce@huffingtonpost.com. We're looking forward to hearing your story!
BEFORE YOU GO
PHOTO GALLERY
Blended Family Friday