Readers, we know you love your hyperrealism. We're not going to lie, we too love gazing upon the technical prowess of these paint masters, heads abuzz while our eyes scream "photo!" and our minds say "painting!" Today's dizzying feat comes courtesy of Joshua Suda, whose portraits and close-ups capture the pores, veins and minutia we're grateful aren't often captured by the camera.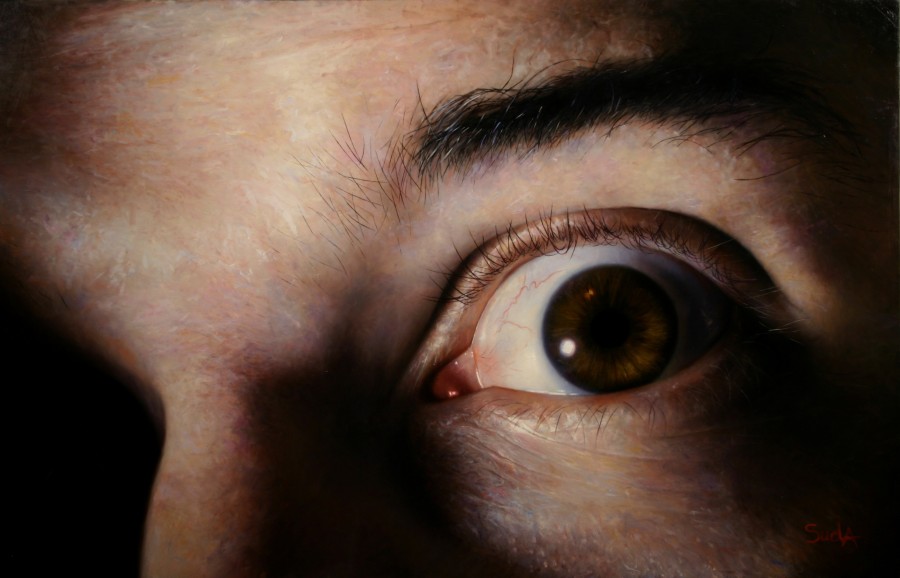 Suda's paintings range from zoomed-in images of eyeballs to vintage rumpled portraits to quirky self-portraits, each showcasing a different set of skills. While one of the most popular critiques of hyperrealism is its lack of originality, Suda proves he's got the technical and creative chops to pull off his signature brand of hyperrealism with a twist.
"I paint pictures," Suda wrote in an email to the Huffington Post. "I have a strong desire, a drive to create, and by circumstance paint is the vehicle I use. At the easel there is meditation, maybe some insanity that takes place. Sometimes I praise it, sometimes it's my scapegoat. there is a yin and yang thing going on. Whatever it is, there is this drive to get the cerebral into the physical without the ultimate concept ever fully unveiled; and that is why I paint. I'm like a dog chasing a ball but the difference between the dog and I; is that I never catch the damn ball."
See Suda's inspiring works below and let us know your thoughts in the comments.