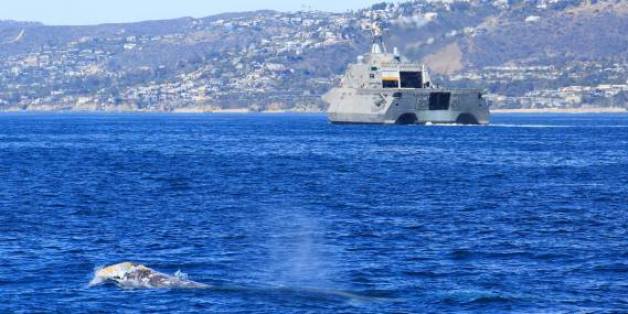 A 419-foot Navy warship in Dana Point, Calif., stopped just in time to let a pod of friendly marine mammals pass by unscathed this past weekend, KABC-TV reported.
On Sunday, the USS Coronado, a new Navy vessel, came very close to some gray whales migrating along the California coast. Captain Todd Mansur of Dana Wharf Sportfishing and Whale Watching was leading a whale-watching expedition and noticed the massive Navy ship was on course to collide with the pod, according to KABC.
"All of a sudden, I realized they were really close and were heading right for the whales in front of us," he told the Orange County Register.
Luckily, Mansur came to the rescue, radioing the Navy vessel from his boat, the Dana Pride, in order to warn them. The USS Coronado agreed to stop immediately, allowing the gentle giants to pass safely.
The pod was most likely en route to Arctic feeding grounds as part of one of the longest migrations in the animal kingdom. Every year, gray whales swim more than 12,000 miles round trip between the Mexican coast -- where they spend winter in the warm water -- and the Arctic, according to National Geographic.
Many whale and dolphin species face the threat of colliding with vessels whose crews may not see the animals before it's too late. These ship strikes are known to injure or kill large numbers of sea mammals, but can harm certain species more than others, according to the World Wildlife Fund. For example, the WWF reports that ship strikes are to blame for 90 percent of North Atlantic right whale deaths for which the cause is known. In California waters, ship strikes of gray whales are the most commonly reported, according to NOAA.
These gray whales, however, will be able to safely continue their migration up the coast thanks to Mansur and the USS Coronado.
"They couldn't have been more courteous on the radio, or in their actions," Mansur told the Orange County Register of the Navy warship's crew.
BEFORE YOU GO
PHOTO GALLERY
Animals Who Need Hugs