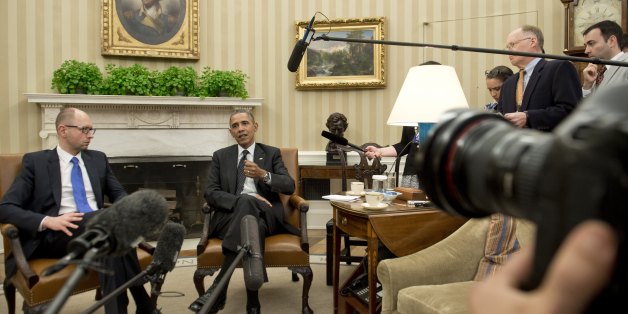 NEW YORK -- The Obama administration said Friday there is "no truth" to the Russian government's claim that Russian journalists were discriminated against and denied entry to President Barack Obama's news conference Wednesday with Ukrainian Prime Minister Arseny Yatseniuk.
"The press availability was what we call a 'pool spray,' open to a small number of reporters given the space constraints of the Oval Office, and it was handled without deviation from our standard practices," NSC spokeswoman Caitlin Hayden said in email to The Huffington Post.
"The pool was made up of reporters accompanying the visiting delegation and reporters assigned by a rotation developed by the White House Correspondents Association," she continued. "Russian reporters receive the same access to open press events as all other credentialed reporters and that will continue to be the case. The idea that we would have excluded Russian press from a press spray because the President didn't want to take questions about the Ukrainian government is ludicrous."
Earlier Friday, Russian Foreign Ministry spokesman Alexander Lukashevich said Russian journalists had been denied access to the conference. He called the supposed U.S. actions "unacceptable and discriminatory."
"It seems that in Washington, where they so love to talk about freedom of speech and journalists' rights, they are not ready to follow these principles themselves, preferring to deal only with 'approved' media propagating the 'required' information," Lukashevich said, according to Reuters. The publication noted that Lukashevich offered no proof to support allegations that the Russian journalists were excluded.
The Russian critique of press freedom in the U.S. comes amid the Kremlin's ongoing media war tied to the invasion of Crimea. On Thursday, the government "all but eliminated the free media" in Russia by blocking opposition websites.
New Yorker editor David Remnick, who won a Pulitzer Prize for his reporting on the fall of the Soviet Union, wrote this week that Vladimir Putin has been "step by step, turning back the clock on information."
"Putin will not undo glasnost," Remnick wrote. "He couldn't even if he wanted to. But his notion of what constitutes the proper control of media is expanding, it seems, week by week."