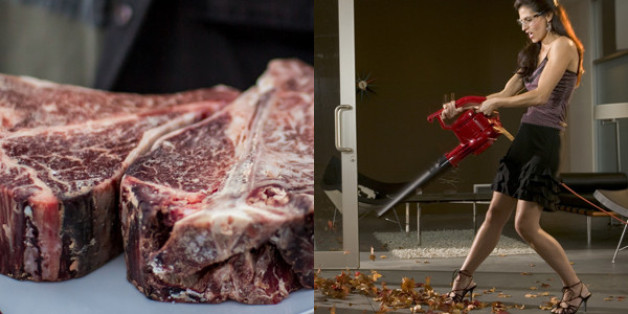 Today is Steak and BJ Day, and we're all out of steak.
This is the so-called anti-Valentine's Day, set a month after the lovey-dovey consumer fest -- at least by all the dudes lying on Facebook and Twitter. And let's just assume all their girlfriends are either embarrassed or nonexistent.
It certainly makes the folks at OfficialSteakAndBlowJobDay.com excited, because it's a holiday with "no cards, no flowers [and] no special nights on the town."
Steak and bj day.. And I don't have a man so 🙌🙌 #LuckyMe

— Texas Cat Lady (@ATexasCatLady) March 14, 2014
Today is national Steak & BJ Day. My boyfriend is getting a ham sandwich and a high five. #steakandbj

— Jen Remauro (@JenRemauro) March 14, 2014
Of course, that site's stance that Steak and BJ Day is only for men -- and that Valentine's Day is only for women -- has the Internet hot and bothered. The folks at The Jane Dough fired shots at the day of sex and meat:
"Steak and Blow Job Day" is the White History Month of holidays; the type of delusional push back based on the idea that men are being asked to do TOO MUCH. Attention S&BJ Day fans: Every day is Steak and Blowjob Day. We live in a patriarchal society; if you're a man, the way our society is is like a personal Valentine to you. Also, Valentine's Day is also for men! If both halves of a couple aren't getting something out of a holiday meant to celebrate love then they are both doing it wrong.
We say the holiday is for everyone!
And since a lot of people will be eating steaks and very few may actually be getting fellatio (at least on an annual basis), we've compiled a list of our favorite social network reactions below, as well as some steak and BJ pictures. Have a nice steak!
PHOTO GALLERY
Steak And Blow Job Day!