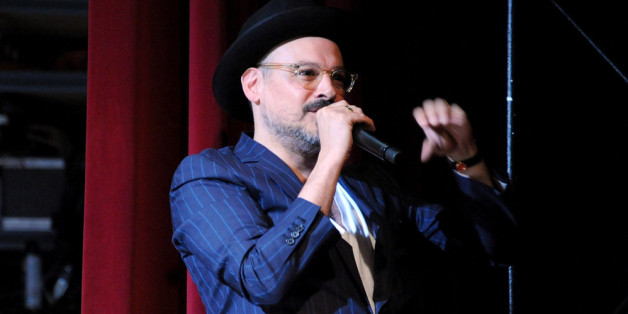 When Vice previewed the blockbuster finale of its eponymous HBO show last May, critics in the lunchtime screening peppered the hosts with questions about their chops and credibility as reporters.
Wasn't this just a stunt, sending Dennis Rodman to North Korea? Could you really count this journalism? Do you think it's cool to exploit the plight of North Koreans? Aren't you guys just a bunch of hard-drinking hipsters from Williamsburg?
Vice brushed off the criticism then, but, judging from the two episodes it debuted at a packed Manhattan theater on Wednesday, the company seems to have taken it to heart. The new season appears to have fewer stunts and a lot more substance.
The first episode features, Shane Smith, Vice's chief executive and globetrotting correspondent, examining the billions of taxpayer dollars being wasted in the jumbled reconstruction of Afghanistan. In the show's other half – each episode is split into two dispatches from far-flung locales -- host Ben Anderson patrolled the favelas of Rio de Janeiro with Brazilian commandoes toting assault rifles as they attempt to root out drug gangs ahead of the FIFA World Cup later this year.
In the second episode, Smith helicoptered over Greenland's glaciers as they melt and broke off into the sea. And producer Fazeelat Aslam tagged along with a nonprofit as it freed indentured workers from a brick kiln in Pakistan, exposing one of the many arenas of modern slavery.
"We hope to be as frequent in your lives as '60 Minutes' was for the last generation," Eddy Moretti, Vice's chief creative director, told the audience.
And it felt more like a serious new format. Sure, traces of Vice's gritty rawness shone through – occasional off-the-cuff swear words, segments with preposterously plentiful bricks of cocaine.
But the company -- flush with recent investment money and advertising revenue estimated to exceed fellow digital upstarts BuzzFeed and Gawker Media combined – appears to have come into its own.
"We've hit our stride," Moretti told The Huffington Post in an interview at the premiere's after-party.
Only three years ago, Moretti, Smith and company were reamed out by The New York Times media columnist David Carr in the documentary chronicling a struggles of newspapers, "Page One."
After Smith essentially justified Vice's partnership with CNN by saying he and his cadre of bespectacled filmmakers were uncovering more riveting tales of feces-covered beaches in war-torn Liberia than the Gray Lady's Africa correspondents, Carr snapped.
"Time out. Before you ever went there, we've had reporters there reporting on genocide after genocide," Carr rasped. "Just because you put on a fucking safari helmet and looked at some poop doesn't give you the right to insult what we do."
Smith was cowed: "I'm not a journalist. I'm not there to report," he said. "I'm just talking about, you know, 'look what I saw.'"
But the Times, and the times, have changed. What Smith is doing is reporting. And Moretti told HuffPost that Vice has since buried the hatchet with Carr, calling him now an "interested supporter."
"That was an unfortunate comparison," he admitted, referring to the CNN comment.
But is it really so far off now? With the launch of Vice News, a separate channel for its international reporting, earlier this month, the company has entered a space previously occupied by more staid outlets news and established, from GlobalPost to CNN. It has poached reporters from BBC News.
Rupert Murdoch even bought a 5 percent stake in the company last year, leading some to question whether Vice had lost its hipster credibility.
"Every time Vice brings in money, people go, 'Oh no, there goes the credibility,'" Moretti said. "And if you don't have a core identity, as you grow you can experience an identity crisis. We realized ours and we perfected it."
Sure, the reporting may be more serious. Vice News correspondent Simon Ostrovsky's dispatches from Ukraine and the Crimea over the last month have cemented that. But Moretti said Vice's old ethos was still present.
"There's still moments of Shane going, 'Fuck, that scares the shit out of me,'" Moretti said, as he tasted a fresh margarita. "But the journalism is tighter."