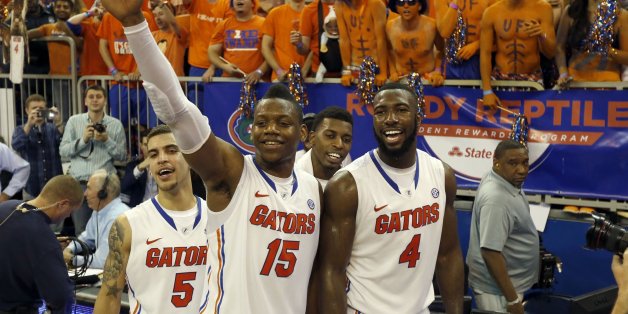 It's time for spots in the2014 NCAA Tournament to be allotted and for bubbles to be burst. Selection Sunday is here.
NCAA Tournament Selection Show
TV: CBS
TIME: 6:00 p.m. ET
The 10-person NCAA Tournament Selection Committee is chaired by Wake Forest Athletic Director Ron Wellman and had the daunnting task of choosing the field of 68 teams in the Big Dance. The field is composed of 32 teams that earned automatic bids and 36 at-large qualifiers. In addition to debating the relative merits of all the potential at-large teams hoping for an invite, the committee had to seed the field from 1 through 68.
SCROLL DOWN FOR UPDATES AS THE 68 TEAMS ARE ANNOUNCED
With five conference championship games being played on Sunday, the committee was working up until the last minute to adjust seeding and set the bracket. Did they get it right?
03/16/2014 6:36 PM EDT
SMU, currently ranked 25th in the AP poll, has been sent to the NIT.

— Gary Parrish (@GaryParrishCBS) 4 years ago
03/16/2014 6:36 PM EDT
SMU gets the boot. PLAY SOMEONE.

— Jeff Goodman (@GoodmanESPN) 5 years ago
03/16/2014 6:33 PM EDT
East Region
1 - Virginia
16 - Coastal Carolina
8 - Memphis
9 - George Washington
5 - Cincinnati
12 - Harvard
4 - Michigan State
13 - Delaware
6 - UNC
11 - Providence
3 - Iowa State
14 - North Carolina Central
7 - UConn
10 - Saint Joseph's
2 - Villanova
15 - Milwaukee
03/16/2014 6:30 PM EDT
The Final No. 1 Seed
The fourth and final No. 1 seed goes to...... Virginia in the East region.
03/16/2014 6:30 PM EDT
NCAA selection committee say it doesn't care about RPI that much but that's the ONLY reason they seeded Louisville as a 4. Ridiculous.

— Nate Silver (@NateSilver538) 5 years ago
03/16/2014 6:28 PM EDT
Six coaches in that region with Final Four experience: Marshall, Calipari, Pitino, K, Barnes, Beilein. Three with rings. Pretty stacked.

— Pat Forde (@YahooForde) 4 years ago
03/16/2014 6:27 PM EDT
Why don't they just put Wichita State in the same bracket with 1969 UCLA? The Region of Death right here.

— Eric Prisbell (@EricPrisbell) 1 year ago
03/16/2014 6:26 PM EDT
NC State got in???

— Pat Forde (@YahooForde) 4 years ago
03/16/2014 6:26 PM EDT
N.C. State? SERIOUSLY?

— Jeff Goodman (@GoodmanESPN) 5 years ago
03/16/2014 6:26 PM EDT
Shocked -- SHOCKED -- that Duke got a 3 seed ahead of Louisville. How?

— Jeff Greer (@jeffgreer_cj) 5 years ago