St. Patrick's Day is upon us, a holiday marked by an overwhelming presence of shamrocks, Guinness and emerald food coloring. While the festivities are meant to honor the man commonly recognized as the patron saint of Ireland, contemporary iterations of the celebration have morphed into less an homage of Irish heritage, and more a hat tip to drunken antics.
So, instead of honoring St. Patrick on this day of Irish awareness, we'd like to take the opportunity to pay reverence to the country's diverse world of contemporary art. Just next month, Ireland will play host to EVA International, a 12-week biennial that brings artists and curators from around the world to interact and engage with the people and city of Limerick. From Kolkata to Berlin to Dublin, the Biennial of Contemporary Art attracts both Irish and international figures who wish to soak in the dynamism of Ireland's first City of Culture.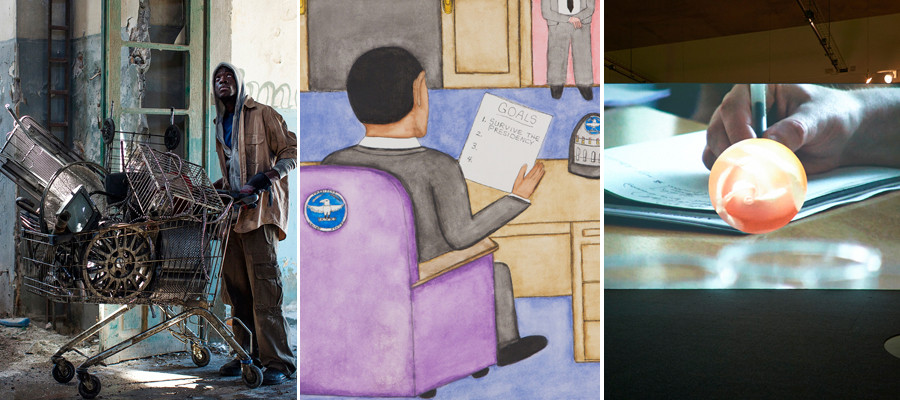 Details of (L-R): Stefanos Tsivopoulos, "History Zero", 2013, Video Still, Courtesy the Artist and Kalfayan Galleries, Prometeogallery di Ida Pisani; Michael Patterson-Carver, "Priority", 2010, Ink, pencil and watercolour on paper, 38.1 x 50.8 cm, Courtesy Laurel Gitlen, New York and Timothy Taylor, London; and Amanda Beech, "Final Machine", 2013, Installation View, Courtesy the Artist
"[The biennial] aims to simulate the sense of living under agitation brought on by global unrest while capturing how we are slowly adapting to a different perception of the world," representatives from EVA International told The Huffington Post. The festivities will cover four different subjects: our relationships with historical ideologies, post-colonial narratives, other beings (including animals), and speculations about the not-so-distant future.
Behold, a preview of EVA International -- with comments from curator Bassam El Baroni and director Woodrow Kernohan -- below. Let us know how you are celebrating Ireland in the comments.
PHOTO GALLERY
EVA International
EVA International will run from April 12 to July 6, 2014 in Limerick City, Ireland.