A new survey finds things are looking up for public college professors when it comes to salary.
The College and University Professional Association for Human Resources released a survey Monday that found professors at public universities saw wage increases outpacing their private counterparts for the first time in four years.
Tenure and tenure-track professors at public schools got a median pay increase in 2014 of 2.2 percent, higher than the 1.5 percent inflation rate, while private college professors reported a 2 percent increase.
While the difference is slight, it's a big shift from 2011, when public college professors reported getting no increase, and 2012, when they reported an increase that was half of what private school professors received.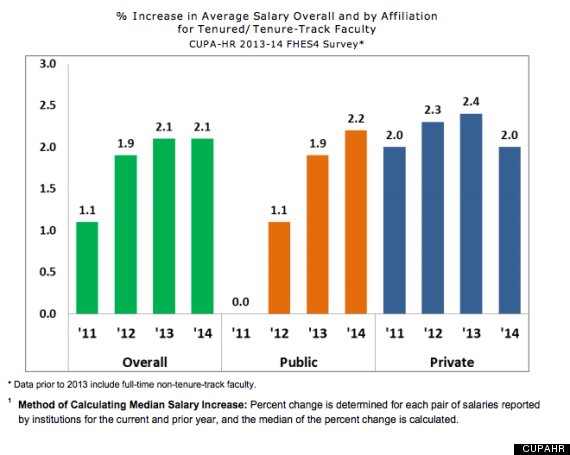 The CUPAHR survey included responses from 178,717 tenured/tenure-track faculty members at 792 institutions nationwide.
The poll found that public university instructors for legal professions made an average yearly salary of $112,088, while those at private colleges made an average of $123,541. Engineering professors took home a little more than $99,000 at both public and private schools. Professors in those disciplines, however, are likely on the higher end of the compensation spectrum -- the survey found professors teaching fitness studies, history or English had average salaries near or below $70,000 per year at both public and private universities.
The news of public instructor pay raises increasing can be spun two ways: a sign that state-backed higher education is making a rebound, or that private colleges are facing new economic realities.
The news that private college instructors are reporting smaller increases for this year follows months of headlines portraying these schools as struggling to maintain enrollment expectations and dire warnings of financial problems from analysts, prompting off-the-cuff forecasts from higher education leaders that many of these schools won't exist in a few decades.
Meanwhile, public universities have seen states begin to slightly restore funding to higher education, helping the institutions to somewhat slow tuition hikes.
The pay survey does not include how adjuncts, part-time or non-tenure track instructors are faring. Adjuncts are frequently paid far less than their full-time colleagues, and today make up a majority of the higher education teaching workforce.