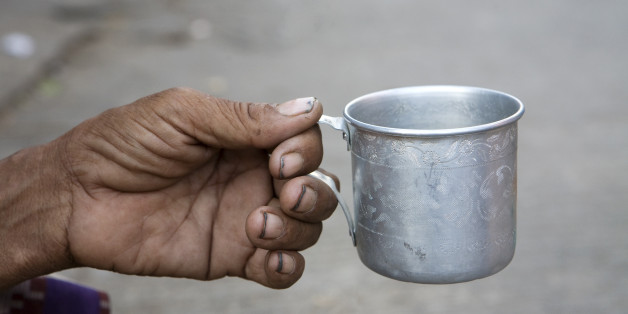 Unbeknownst to her supporters, a blind beggar who was a fixture on the streets of Saudi Arabia was actually a millionaire, and reportedly left everything to the poor.
According to the Saudi Gazette, Eisha -- a 100-year-old woman who spent her days panhandling in the town of Jeddah -- amassed a sizeable fortune throughout her life. Before she died, she gave her friend, Ahmad Al-Saeedi, her will which states that her money and possessions should go to the needy, Arab News reported.
Altogether she had Saudi Riyal 3 million in cash (about US $800,000), Saudi Riyal 1 million worth of jewelry (about US $266,000) and owned four buildings in the Al-Balad district of Jeddah, according to Arab News.
She let a number of families stay in her buildings for free, but now that she has died, they may be forced to vacate their homes.
When Al-Saeedi learned that his friend was wealthy, he said he advised her to give up panhandling.
"I asked her to give up this profession as she possessed a huge amount of wealth but she always refused and said she was preparing for hard times," he told the Saudi Gazette.
Al-Saeedi said he asked authorities to help him dole out her fortune, but there are conflicting reports about what transpired.
Talaat Ghaith, the mayor of Al-Balad, told Arab News that the case is now in the hands of authorities.
Eisha's case further confirms that passersby shouldn't be so quick to judge people begging on the street.
Dobri Dobrev, 99, spends his days asking for money on the streets of Sofia, Bulgaria, according to a website devoted to the panhandler.
But the generous man doesn't keep a cent of what he collects. Dobrev lives off of his small pension and gives everything else away to orphanages and churches.
"The good will is just and true. Everything in it is good," Dobrev said in the film "Mite," which was produced in 2000. "We must not lie, nor steal, nor commit adultery. We must love each other as God loves us."