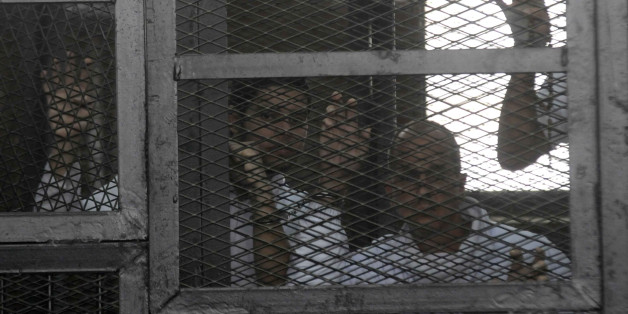 Interim Egyptian President Adly Mansour spoke out about the fate of the imprisoned Al Jazeera journalist Peter Greste and assured that he "will spare no effort to work towards the speedy resolution of the case."
Mansour responded to a letter sent from detained journalist Peter Greste's parents calling for their son's release, the Guardian reported Monday. Greste has been detained in Egypt since December on charges of "airing false news" and assisting a "terrorist organization." In total, 16 Egyptians and 4 foreign reporters -- nine of whom are Al Jazeera journalists -- are currently facing charges.
Peter's mother Lois Greste read Mansour's letter aloud at a press conference Tuesday, the Guardian said. His words gave some hope for the quick release of the journalists that so many organizations, including the United Nations, have asked for.
"As a father I'd love to convey my understanding of the prevailing emotions of distress and anguish amongst both Peter and the whole family," the president wrote. "Notwithstanding the independence of the judiciary authority and foremost all the rights guaranteed by the law, I would like to assure you in my capacity as president of Egypt that I will spare no effort to work towards the speedy resolution of the case in a fashion consistent with the law and that guarantees the resumption of the family in the near future."
Greste's father spoke at a news conference just a month after his son's taking, calling the allegations against him "completely preposterous" and calling for his immediate release.
"Peter's detention is most unfair and unjustifiable," Juris Greste said in January. "Thus we respectfully but passionately ask the Egyptian prosecutor to free Peter and his colleagues immediately."
Trial for the 20 defendants resumed on March 5, during which disturbing images were released of Greste and his fellow journalists in cages. The trial was adjourned once again until March 24.
Greste himself has sent letters to his parents from prison, calling his situation an "attack on freedom" and describing the unjust prison conditions. If found guilty, Greste faces up to seven years in jail.
BEFORE YOU GO
PHOTO GALLERY
Countries with most imprisoned journalists