Ugh.
We don't know which of these two newspaper front pages on the suicide of fashion designer L'Wren Scott is worse: the one that refers to her as 'Jagger's Gal' or the one that calls her "Mick's Lover."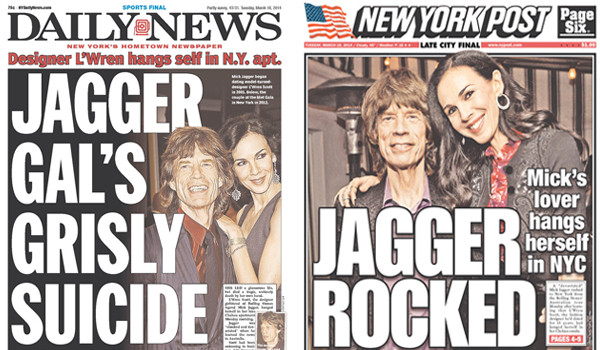 Maybe both because they BOTH identify her as a celebrity's girlfriend rather than the famed and talented fashion designer, stylist and model that she was.
But perhaps the newspapers were just following the trend.
UPDATE:
The New York Daily News answered our question for us:
@HuffPostMedia Hint: The one that uses a pun and doesn't mention L'Wren's career.

— New York Daily News (@NYDailyNews) March 18, 2014
(h/t: FishbowlNY)
CORRECTION: A previous version of this article incorrectly stated that the New York Post cover wrote that L'Wren Scott was "Jagger Rocked."